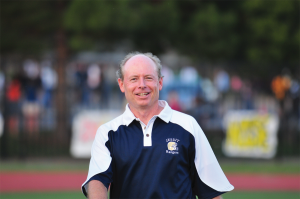 The offense lines up on the five yard line. 3rd and goal, a must-score situation. As the ball is snapped, the quarterback takes the ball and runs straight toward the endzone, diving in to secure the touchdown. The rest of the team and the energetic crowd erupts, as a booming voice comes over the loud speakers at Postell Stadium. The disembodied voice boldly declares a Ranger touchdown to all throughout the stadium. Fans and students often wonder who is behind that voice, and that man is John Schmeltz.
John Schmeltz, a Jesuit graduate class of 1974, has been the P.A. announcer for the Jesuit football teams for nine years, and his voice has become a staple of the Jesuit football games. In order for the Jesuit community to learn more about this intriguing man, he graciously sat down with The Roundup to talk about his passion for public speaking.
Now, one may think that Mr. Schmeltz had a lifelong ambition and childhood dream to become an announcer, but that is not the case. He became an American Airlines pilot, a job that has little to do with announcing football games. However, the job of P.A. announcer fell into his hands because of his involvement in parent organizations throughout Jesuit. He commented that "my three sons attended Jesuit and while they were students, I became active in the Jesuit Booster Club, working closely with Athletic Director Steve Koch. As luck would have it, the job of stadium P.A. announcer came open and he offered me the job."
Despite noting that he "never announced any games other than Jesuit," Mr. Schmeltz explained how his background helped him make the tough transition to P.A. announcer, noting that "as an airline captain and head of Booster Clubs and parent organizations, I had plenty of experience at public speaking." He is also very thankful for his job as a pilot because it "affords me the work schedule to be able to announce both Thursday and Friday night games."
The mention of "Thursday and Friday night games" brings up an interesting quality of Mr. Schmeltz: he takes the time to perform his job for the JV and freshmen football games on Thursdays, something that is rarely done throughout the metroplex, as most announcers only work Friday games since the crowds are bigger. Mr. Schmeltz demonstrates a very Ignatian quality of selflessness, especially when he very easily could stay at home on Thursdays, especially when he is tired from his daytime job. Athletic Director Steve Koch added that Jesuit is "one of the few in town that announce the freshmen and JV games and he does a great job at that," exemplifying how people notice and appreciate his generosity toward the Jesuit community.
In fact, Mr. Schmeltz revealed that he enjoys announcing the freshmen games because he "enjoys seeing a new group of freshmen players, and watching them grow, mature, and work hard during their four years, under the guidance of the fine coaches at Jesuit," demonstrating his care for the athletes he announces, not simply just caring for his job. He also complimented the coaching staff on their wonderful jobs developing the student-athletes each and every year saying, "I have the greatest respect and admiration for the coaches and staff at Jesuit who year after year give their best efforts for the athletic and personal achievement of their athletes." He is proud of both coaches and athletes for their dedication and commitment to their sport, and takes pride in knowing that he is an integral part to that community.
In the same way that Mr. Schmeltz is proud of the students and coaches, Coach Koch also commended Schmeltz's own dedication to the game, commenting that not only has he "never missed a game that I can remember," but also he is "very unbiased and has done the job the right way," which can most likely be attributed to the selfless qualities that Jesuit instilled in him as a student.
Senior counselor Mr. Fitzsimmons also spoke with The Roundup, commenting about his respect for Mr. Schmeltz, stating "I've always admired John Schmeltz for his dedication to Jesuit. He's a veteran pilot for American Airlines, and certainly doesn't need to do what he does, but he just loves to be around here. He just wants to help Jesuit anyway he can because he thinks what we do here is so important." Specifically speaking on Mr. Schmeltz's commenting skills, he added, "He does a very fine professional job of public address announcing. He doesn't call the attention to himself and he is always classy and right on point."
Tom Walsh, who along with Mr. Fitzsimmons performs the radio broadcasting duties for the varsity football games, also spoke of his admiration for Mr. Schmeltz's devotion to the Jesuit community: "John Schmeltz is a Jesuit treasure. His voice is, of course, synonymous with Jesuit football games, but John Schmeltz is so much more than a great voice. He is a living example of what it means to be a Man for Others and is someone who truly personifies this great school."
Overall, Mr. Schmeltz truly cherishes his opportunity to give back to his alma mater, noting that "I have seen many great games and many great players and am grateful for the opportunity to be a part of Jesuit." Despite accepting a job with no previous experience other than speaking to passengers on an airplane, he "readily accepted [the job] and has enjoyed every minute of it." In fact, as a result of the many years of service he has given to Jesuit through working as the P.A. announcer and as the former president of the Booster Club, he was awarded the Distinguished Service Award in 2012 and was also inducted into the Jesuit Blue and Gold Sports Hall of Fame for his service to athletics.
So when you hear his bold voice announcing a Jesuit touchdown at the next football game, remember who that voice belongs to, and the many hours of service he has dedicated to the school in order to make each game a fantastic experience. John Schmeltz is a prime example of service without recognition, or as the Prayer for Generosity states, "to give and not to count the cost."