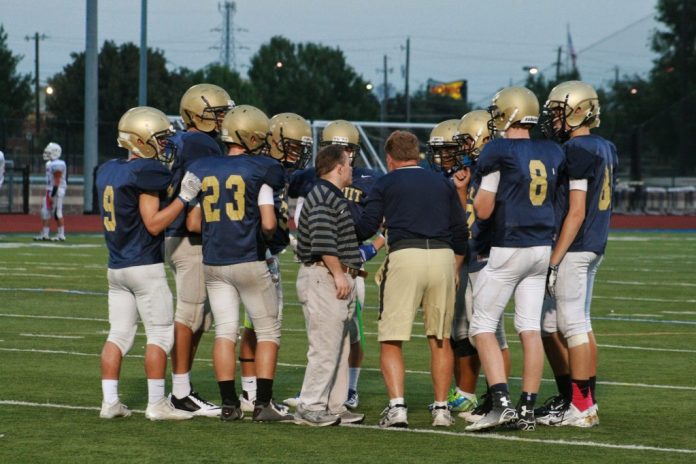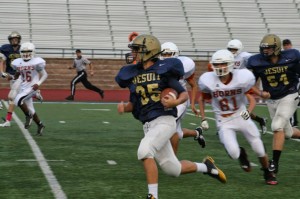 This past Wednesday night, the freshman Rangers faced the formidable W.T. White Longhorns at Jesuit's very own Postell Stadium. The game would be challenging for both teams, for once again the Blue and Gold Teams would have to combine forces and make a joint Blue-Gold team to combat the 'alpha team' of the Longhorns.
With the game late in the season and their ranks thinned by injuries and ineligibility, the Longhorns had to form a single team, so it was only fair that the Rangers responded in kind. The week before the game, the coaches informed the players of the Blue and Gold Teams that they would once again come together to play as a single, cohesive unit and balance the playing time between the boys on Blue and Gold. Jesuit, experiencing this predicament once before with the Celina Farmers, quickly merged the two teams to account for W.T. White's solo team.
Hitting the field, the Rangers knew the drill, and although the game was on a Wednesday night, they quickly showed the Longhorns that this wasn't their first rodeo. In the first quarter, the game was moving along with few signs of a break in the scoreless game until QB Jagger LaRoe '18 connected with WR Jim Hayden '18, which put the score at 7-0 Rangers. Closely following this play, a couple minutes into the second quarter QB Alek McGlone '18 threw a bullet to Grayson Hassell '18 for a 13 yard touchdown. The Longhorns answered and scored their first and only touchdown of the night. Shortly after, Fletcher Rosenbleeth '18 responded with a long 40 yard kickoff return. To complete this long drive, Ryan Macalanda '18 drilled his way into the end zone for a hard fought 1 yard touchdown to end the first half.
Coming out of the half time break, the boys in blue were focused and ready for another round. Showing their ability to work as a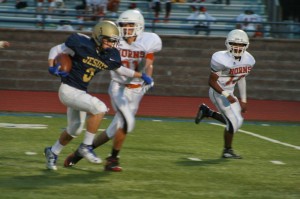 team, Jesuit was ready for score-hungry W.T. White because "unlike other teams we've played, [they] passed a lot more, but we were prepared," said Omar Dibba '18. Although the Longhorns' defense was giving the Rangers all they had, the Jesuit offense pushed through, and the Rangers' rally would not stop until the game was finished, ending the second half with three more touchdowns from regular offenders Fletcher Rosenbleeth and Jim Hayden, as well as from Grayson Godfrey.
Pearson Bryne '18 shared some key elements to the success of the freshman Rangers, saying, "Our DBs played great defense and held the receivers from catching the ball many times. Coach Howard made great defensive play calls so that our defense could stop them." All in all, the Rangers would end the night with a 42-6 win at home over the W.T. White Longhorns, which also ended the final joint Blue-Gold team game of the season.
Photos by John Tabet