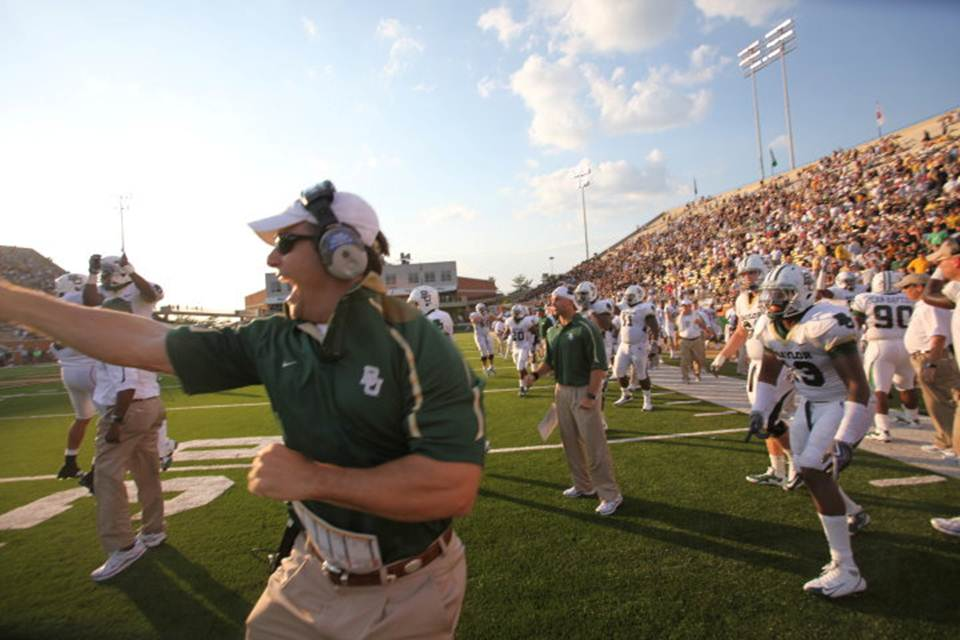 Some high school coaches can say they were "big shots" in their high school days;  others may say they've played in college or the NFL for that matter. However, have most coaches played professional football on the other side of the world? Have most high school coaches coached current NFL players? One Jesuit coach has experienced more than one could imagine in his young age.  Coach Reed Heim, one of Jesuit's newest members to the athletic department, has lived a life most people cannot even dream of.
Heim, now 35 years-old, was born on October 7th, 1977 to Gary and Kathy Heim in University Park. Later in his childhood, he and his family moved to the Lake Highlands area where he attended Lake Highlands High School.  While at Lake Highlands, Heim played football, wrestled, and also power-lifted.
After graduating from Lake Highlands, Heim attended Austin College where he played football for three seasons. Because of an injury his senior year, the team redshirted him, allowing him to come back for another year after he recovered. During this time, Heim began to find his love for coaching as he helped out the team each day.
After his fifth year-senior season, Heim graduated with a Bachelor of Arts degree in Business Administration in 2000. Because of his love for Austin College and coaching, he opted to stay one more year to help coach the team.
After completing the season, Heim discovered an opportunity to play professional football in Europe from a high school friend. In March of 2001, Heim moved to Vienna, Austria where he played for a team named the Südstadt Rangers for 6 months. While playing football, Heim also learned to speak German. He "really enjoyed [his] time in Austria" because it not only allowed him to grow in his passion for football, but also experience new and different things.
After his time abroad, Heim returned to the United States. He then took a coaching position at Louisiana College in Pineville, LA for one season in 2002.  After his first job back in the US, Heim packed his bags and headed for Lexington, Virginia to coach at the Virginia Military Institute (VMI).  Heim explained that most of his "foundation [was formed]" at VMI because of the many responsibilities that were entrusted to him.
During his time at VMI, Heim served as the defensive and linebackers coach, film coordinator, recruiting coordinator, and equipment manager.  After four seasons at VMI, Heim moved back to Dallas to work at SMU for one season, working as the offensive graduate assistant with tight ends.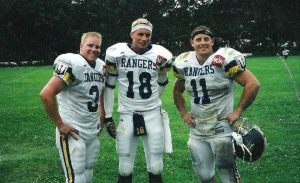 When his year at SMU was over, Heim was presented with another unique coaching opportunity. Brian Norwood, Baylor University's Assistant Head Football Coach, who had previously worked with Heim at Penn State's summer football camps, offered him a job as the defensive graduate assistant at Baylor University.
In January of 2008, Heim accepted the offer and moved to Waco, TX. While at Baylor, Heim met Jeremy Weeks, Jesuit's current Director of Athletic Performance.
These two men became close friends as they roomed together for three years. Weeks commented that while rooming together, he discovered that "Heim is a human atlas—if you want to know a restaurant in a random city in Texas, ask Coach Heim. If you want to know multiple ways to get to a destination in Texas, ask Coach Heim." Because of their strong friendship, Heim informed Weeks of an available strength and conditioning coaching job at Jesuit in 2011, which he would later pursue and accept.
While at Baylor, Heim "broke down the games and helped coach the outside linebackers." In addition to coaching, he earned a Master's degree in Education (Sports Administration). "I really enjoyed Baylor. I had a very, very good experience working with a lot of good people that helped turn that program around." One interesting perk about working on Baylor's coaching staff was that Heim coached Robert Griffin III, the Washington Redskins' quarterback and Heisman winner.
Heim also worked with Jason Smith, an offensive lineman who was the number 2 overall pick in the 2009 NFL Draft, and other various NFL players.  Heim was also a part of the 16-man coaching staff that brought Baylor to its first bowl game in 16 years.
After three seasons with Baylor, Coach Paul Maturi, Jesuit's defensive coordinator, introduced Heim to a coaching opportunity at Jesuit. Maturi, who previously served as Lake Highlands defensive coordinator, coached Heim his senior year. In the spring of 2011, Heim accepted the job and moved back to Dallas for the third time to begin his tenure at Jesuit.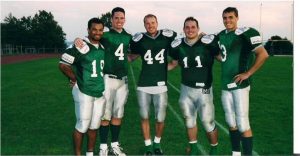 Heim currently serves as the special teams/linebackers coach for the Rangers. He also coordinates film, and during the off-season, he assists Weeks with various athletic performance duties.
When asked about his initial impression of Jesuit, Heim replied, "Jesuit is very different compared to other schools because [Jesuit athletes] are not only very talented physically, but mentally. [Jesuit] is a unique place because it not only allows kids to grow physically in the athletic department, but also mentally in the classroom and spiritually through all the programs that are offered [here]."
Coach Heim really enjoys Jesuit students because he feels that he can talk to the players not only about football, but about other things in life.   He went on to explain that his favorite thing about Jesuit is the student body: "There's no question, without a doubt. Jesuit would not be the place it is without the great students we have here."
Heim explained his humble goals for his athletes at Jesuit: "My goal is to get the guys to play at the highest level they can. If they're going out there and giving their best, that itself is a competition outside of the game. Yes, winning is great and fantastic, but if I can help my guys achieve their highest level, that's what matters most."
Coach Heim has made an impact on not only his players, but the coaching staff as well. Head football coach Brandon Hickman said, "Coach Heim wears many hats in the athletic department. He helps out with linebackers, special teams, film, the weight-room, everything. He has a lot of energy, which is great."
When asked about what he enjoys about Coach Heim, Hickman replied saying, "I really enjoy his attitude. He knows how to have fun with the guys, but he also knows when to get on to them to keep them straight. He has made a huge contribution to the athletic department. He's a fun guy to be around."
Coach Weeks also had a few words to say about Heim: "He's very smart with his x's and o's. He understands the body and how it moves and works in the weight-room. A lot of coaches don't understand what Coach Heim understands. He brings a lot to the football team with his experiences at many colleges and universities, as well as his playing experiences."
When asked about what he enjoys most about Heim, Weeks said that "He's a real good friend of mine. He's got a great personality. I know I can go to him and ask a question and get the truth. Three words to describe him would be loyal, trustworthy, and quirky. He's just an interesting guy."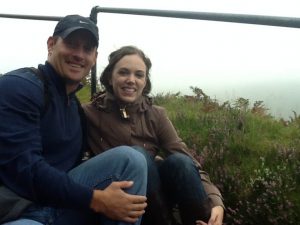 Coach Heim recently proposed to his girlfriend in Dublin, Ireland when Jesuit's football team traveled there to play Chicago Loyola. "It took a little bit of work! Rachel, my girlfriend, is a great woman. Do I ask her at the game? Do I take her out to dinner? I really wanted to knock her socks off, and Ireland made it possible. It was great."
Coach Heim has not only proven to be a great asset to the athletic department here at Jesuit, but also in the community. His unique coaching opportunities and playing experiences have formed him into the exceptional man he is today.
His hard work and dedication for the athletic department benefits all Jesuit athletes tremendously. Jesuit is very fortunate to have a man like Coach Heim.