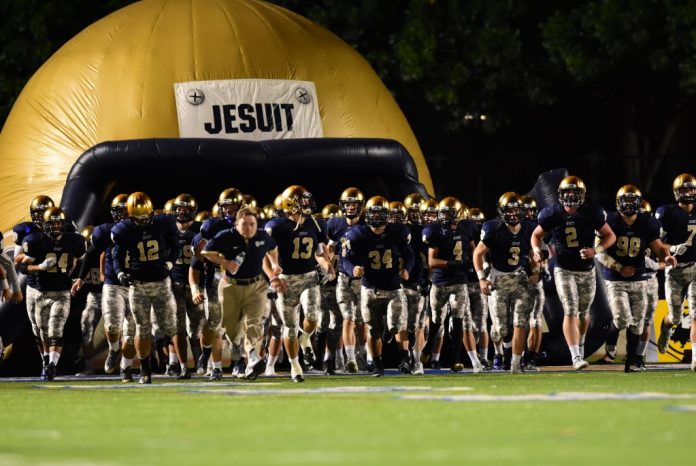 The Rangers walk off the field with their heads held high, standing together as a team and never giving up. Even though Jesuit did not play their best, the football team remained resilient in the face of injuries and adversity.
On Friday, September 2nd,  Jesuit lost a hotly contested battle to a nationally ranked Desoto football team 47-13. Receiving the kickoff, Jesuit quickly went 3 and out and punted the football to Desoto, who on their first play, hit a 51-yard pass downfield to the Jesuit 2 yard line. First and Goal, Desoto QB and TCU verbal commit Shawn Robinson ran the ball in for a quick six points.
After failing to score on the next couple possessions, Jesuit left the door wide for Desoto to extend their lead, going up 14-0 before the first quarter ended.
Luckily, Jesuit's defense stepped up big in the second quarter, not allowing any points and even intercepting one of Desoto's passes; however, all Jesuit's offense could muster was a field goal, sending the score to 14-3 at half.
After senior QB Jacob Palisch suffered a shoulder injury, Coach Hickman put in backup quarterback Parker Towns '18, who did exceptionally well against a highly-touted Desoto defense, throwing for 83 yards on 11-18 passing. Palisch commented on the game saying, "Desoto was a good team, and we were in the game with them. We just have to correct a few little mistakes that made a big impact."
All hope for a Jesuit comeback faded away in the third quarter where Desoto outscored Jesuit 20-3, highlighted by a 74-yard touchdown run by the Desoto quarterback.
In the fourth quarter, Jesuit finally found the end zone on a two-yard from junior Jack Tabor, amid two other touchdowns by Desoto, the final score Desoto 47 – Jesuit 13.
Reflecting on the game, Coach Hickman commended his team's effort, saying,  "I thought our kids battled for 4 quarters and played really well at times, getting a couple of big defensive stops and creating two turnovers. We ran the ball very well offensively and connected on a couple of big pass plays."
Hickman "really liked [the] game plan to control the clock," but he emphasized that the team had "to come away with more than field goals to keep up with Desoto because they [were] going to make some plays with their speed."
Additionally, Hickman said that the Jesuit "needs to do a better job of not giving up the big play, taking care of the ball, and scoring in the red zone.  We moved the ball really well from the 20 to 20 but didn't come away with a TD until late in the game.  Against really good teams you can't make mental mistakes and expect to win. We will get better in both [of those] areas over the next few weeks."
Senior captain Jack Metz mentioned that the "team needs to be disciplined and learn how to finish;" however, Metz also optimistically focused on the things the team did well in the game, "the defensive stops on third and fourth down," "the moral of the team," and never "giving up or pointing fingers even when we were losing."
Looking forward to the rest of the season, Hickman "is very excited about our football team.  We have to remember our goal is to keep improving heading into district play.  Our non-district schedule is one of the toughest in the state and it will only make us better as a team playing against great competition.  Our guys will rise to the occasion and step up they always do.  We have two more non-district games, and then we get a week off to heal up and get ready to make a run at repeating as District 9-6A Champions."
Jesuit will next play Plano East on Friday, September 2nd at the Cotton Bowl before a battle for the ages between Jesuit and the number 2 team in Texas, Lake Travis.