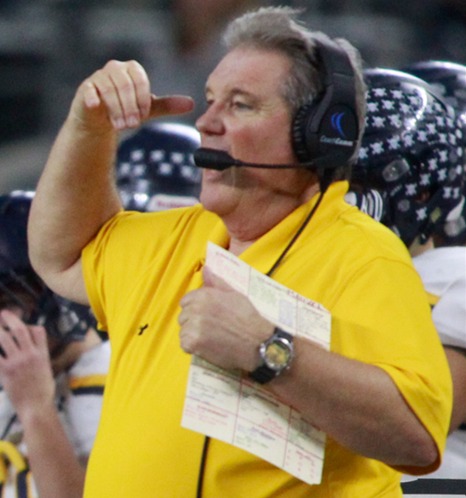 Starting this season, Jesuit Football will be receiving a new defensive coordinator, Don Woods. Coach Woods has over 35 years of coaching experience and is bringing all of those years to help out the Rangers.
When asked about Coach Woods, Jesuit's head football coach, Coach Hickman, answered, "He's a fundamental coach that our players and coaches respect. Don's a great person and coach who has gelled very well with our current staff. It was exciting to see he and our defensive coaches work hard together installing the defense during spring ball." Coach Hickman is very confident in the new defensive coordinator
and expects success the upcoming season.
Regarding the next season, Coach Hickman is very optimistic.
"I thought some players really emerged at certain positions during spring training. We asked a few guys to try out new positions and those guys made our team stronger. We have guys that have been battle-tested and know what it takes to be successful. We feel comfortable with our overall depth and know more guys will continue to improve and step up in the fall."
According to Coach Hickman, Spring Football really helped unite the team to prepare for the regular season starting next school year.
"We had a lot of fun with our kids this spring because their effort and attitude was contagious and everyone was rowing the boat together developing team chemistry and enhancing our fundamentals. It's going to be an exciting year these guys will work very hard together and are eager to get started."
Though the senior football players have already graduated, Coach Hickman focused on building team chemistry between the football players for the upcoming season and the team seems stronger and more diverse.
With the new defensive coordinator hired and a lot of team chemistry built through various activities, it looks like the Jesuit Rangers are ready for an amazing season.