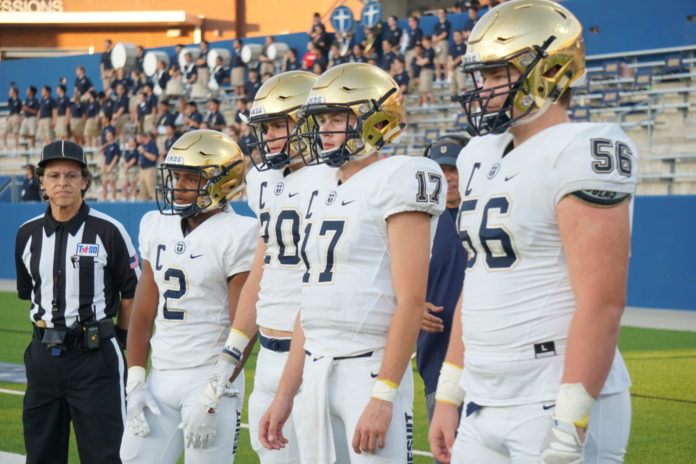 The brawny football players walk slowly out of the locker room proudly flexing the Jesuit logo. They chant and hype each other in the inflatable football helmet, smoke traveling into the air, and sprint out onto the field in the packed $70 million McKinney stadium. On September 26, 2019, the Jesuit Dallas varsity football team vanquished McKinney Boyd by an impressive score of 40-21 to go 2-0 in the district. Let's go further into the details of this promising game: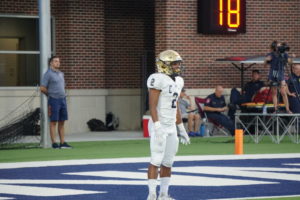 First Half
The first half did not go necessarily as expected. Within the first three minutes of the game, McKinney Boyd soon went on a 3-play, 65-yard drive to earn the game's first touchdown. After getting the ball back, Jesuit responded auspiciously, reaching the McKinney 6-yard-line, but dramatically fumbling it. Boyd recovered the ball, and went in for the 94-yard touchdown, leaving the Rangers down 14-0 in the first quarter.
Fighting to stay in the game, the Rangers defense came up big, stopping Boyd's offense and forcing them to punt two times before mustering two field goals to make it 14-6 at the half. Captain Rance Holman'20 said, "although we started off slow we showed our resilience and really exemplified how tough we are as a team".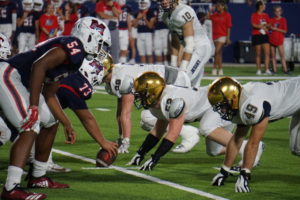 Second Half
Whatever Coach Hickman said in that locker room proved very effective, because the Rangers were fired up in the second half. Right at kickoff, the Jesuit Rangers went on a 7-play, 31-yard drive, obtaining a second field goal through Parker Brown'21, making it 14-9 towards the start of the third quarter. Then, the game's momentum dramatically changed in favor of Jesuit, as sophomore Robert Fitzgerald intercepted the ball, which led to Jesuit's first touchdown of the game by E.J. Smith'20, who ran it in for 6 yards. Then, the Rangers went on a rampage, scoring another two touchdowns, with a spectacular 63-yard-run by yours truly, E.J. Smith'20, making it 30-14.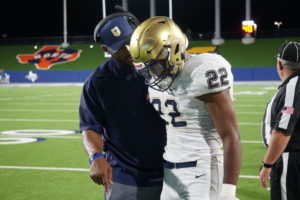 After another incredible Robert Fitzgerald'22 interception, Sam Morales'21 had a 1 yard run put the game beyond reach for Boyd with two minutes left, ultimately finishing 40-21 in another exciting game of high school football.
Conclusion
The season is looking bright and very exciting for Jesuit football. Their comeback from 2 touchdowns in the first quarter, a score which often causes team to lose momentum and morale, is very astonishing, demonstrating their tenacity. With offensive threats such as E.J. Smith'20, Jake Taylor,'21 and Rance Holman'20, defensive strength with captain Jack Barton'20, Chase Walker'20, Tommy Roy'20(the list goes on..), and exceptionally accurate kicker Parker Brown'21, the team looks set to be a real nuisance this year and playoff contender. As senior Will "Shrek" Garoutte said, "our defense right now is playing the best it has in all the time our class has been here, and we are looking to continue that further in district play".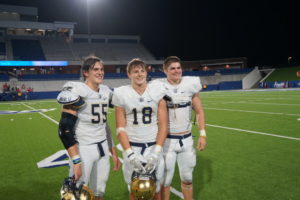 Jesuit Dallas will play Prosper at home next Friday (October 4) at 7:30 P.M., so go out there to support your Jesuit Rangers!
Stay tuned to the Roundup for more coverage of Jesuit Football!
Credit: Silas Hartman