With the school now well underway this year's Varsity Football team is ready to go. This past Friday, on August 24, 2018, the Jesuit players scrimmaged with North Forney High School to practice for the upcoming season. While no one kept score everybody had fun and improved, as Chase Walker '20 commented, "I thought we played very well and even though we started off a little slow I thought our team rallied very well and took over the momentum during the second half."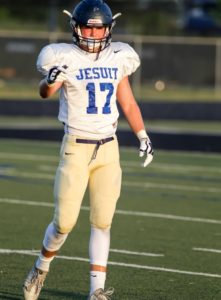 The team appears to be in high spirits as many players voice their enthusiasm for this season. Will Garoutte '20 is "excited for this year and ready to shock some people," confident that the team will exceed expectations.
Andrew Gregory '19 is "ready for this team to finally prove all the hard work we have put in over the summer."
With the players ready to tackle the obstacles coming their way, it will be a good season to follow this year. Good luck to the Varsity team as well as the Junior Varsity and Freshman teams. Go Rangers!