Nothing gets the Jesuit campus more fired up than the first home football game, and this year was no different. With a buzz in the crowd, everyone on the 28 was ready for the awaited home opener.
On Friday, August 31st, Jesuit took on Arlington at Postell Stadium, ready to start the season off strong.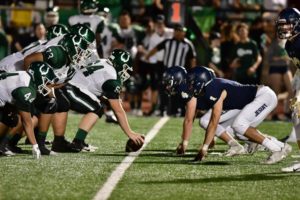 Jesuit started out hot, with a touchdown on the opening drive, with Kevin Shuman '20 connecting with Jack Hajdu '19 for 6. Later in the quarter, Shuman found E.J. Smith '20 in the end zone for another touchdown.
Arlington then followed up with back to back touchdowns, taking the lead until Shuman again found Smith for a 67 yard touchdown. The Colts then snatched the lead back with a last second touchdown, ending the half at 24-22, Arlington on top.
Arlington then proceeded to dominate the second half, holding Jesuit to only a field goal in the waning minutes of the game, while themselves scoring three touchdowns.
In one of the few highlights of the second half, Jack Barton '20 came away with an interception but unfortunately the Jesuit offense was stymied and it wasn't enough to spark a comeback. The final score was 25-55, with the Rangers starting the season off 0-1.
The Rangers also suffered two major injuries, with Chase Walker '20 and Charlie Clements '21 suffering season ending knee injuries.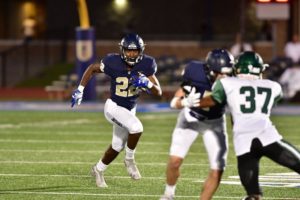 With the ending of the football game being a 25-55 loss to Arlington, some might think that the players would be discouraged. However, our Rangers stayed optimistic, as demonstrated in this outlook from Ford Buckner '20: "We can only get better from here." This positive outlook is also shared by Kevin Shuman '20: "We can't wait to show everyone we can compete."
A positive outlook isn't the only response. Pierce Strong '19 commented that "this game has to roll off our back. Now we focus on beating DeSoto." Not dwelling on past mistakes can help lead them towards greater victories as the season progresses, so long as they learn from each game.
Head Coach Brandon Hickman commented that "We played a good first half and just made too many mistakes in the second half to pull out the win. I give Arlington credit, they played better than us Friday and they have a good football team. We have to put that game behind us and get back to work this week in practice preparing for our next opponent."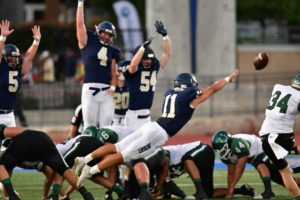 "I felt our kids played very hard but we need to correct and learn from our mistakes this week and move forward. Our coaching staff believes in this team and there were many bright spots when we watched the film on Saturday. We did some really good things, but we just have to respond when a little adversity strikes in a game and push through that," Hickman reflected.
"We are excited about the opportunity to play DeSoto this week and I'm looking forward to seeing our guys compete. Our goal is to continue to develop our identity and be peaking once we get into district play in a few weeks," Hickman concluded.
The next step for the Jesuit Rangers is on September 7th, where they face off against the Desoto Eagles at DeSoto at 7:30. Good luck to the team, and go Rangers!