It has been a historic run for the Rangers this year. In their second year in a new district, the Rangers defied the odds and ran through some of the strongest football powerhouses in Texas in a run for a state title. Unfortunately, this run came to an end at NRG stadium, on Saturday, December 7th at 6 PM, in a highly contested 28-38 defeat.
Scoring Overview
The game started the best way it could have for Jesuit, with Westfield's first pass and play of the day being intercepted by The Roundup's own Jack Barton '20, as he took it 26 yards to the house for an early 7-0 Jesuit lead. Westfield quickly answered back four plays later as Kendal Taylor rushed for a 64 yard touchdown to tie the game. After a defensive stop by Westfield, another quick touchdown was scored with a 53 yard touchdown pass. A fumble by Rance Holman '20 set up Westfield for an easy 18 yard score, as they furthered their lead at 7-21 with 6 minutes left in the first quarter. Jesuit proceeded to answer with an E.J. Smith '20 rushing touchdown as the first quarter concluded, with a classic Jesuit drive consisting of meticulous passing and running plays to slowly slice up the defense.
A fumble forced by Robert Fitzgerald '22 positioned the Rangers in Broncos territory, but the Rangers were unable to capitalize and turned the ball over on downs. However, a quick interception by Ethan Lane '20 3 plays later quickly put the Rangers back into scoring position, to set up another E.J. Smith rushing touchdown to tie the game at 21. Westfield was able to score in the waning seconds of the first half, to take a 7 point lead into the half.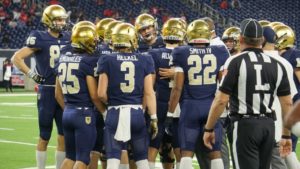 Second Half
After a long first half, the Rangers came into the second half ready to try and come back from their 7 point deficit, but both defenses held strong throughout the 3rd quarter, with no scoring allowed. Notably, Holman's pass was picked off at the Westfield 4 yard line after a 75 yard drive by the Rangers.
Continuing their third-quarter drive, the Rangers scored on a 34 yard touchdown pass from Holman to Charlie Cook '21 to once again tie the game, this time at 28-28. Westfield received the ball off the kickoff, but was held in Jesuit territory by the defense, and forced to take a field goal. After missing the first attempt, which was declared a "no-play" due to a false start penalty, Westfield was able to drill the 5 yard longer 35 yard kick after the penalty to take a 3 point lead. An interception from Westfield with 2:45 left in the game all but sealed the game, and a 61 yard touchdown from Taylor put Westfield up by 10. A Jesuit drive ended in a turnover on downs, and Westfield kneeled the remaining seconds away. The final score was 28-38, in a Ranger defeat.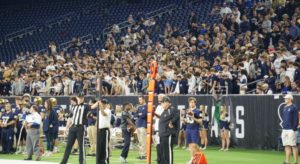 Game Flow
Despite the high score, it was quite the defensive battle, with Jesuit's defense especially playing well. A few big plays from Westfield on what was an otherwise solid day for Jesuit's defense added up in the end, as the Ranger offense was unable to answer back. Jesuit controlled much of the pace in the back end of the 2nd quarter and the third, as they were able to control the clock with the wildcat formation featuring E.J. Smith in the backfield as well as a myriad of crossing routes to Christian "Beast" Allocco '20 to run their traditional ground and pound offense. While the game ended with a 10 point deficit, it was closer than it may seem as it came down to a few plays where Jesuit was unable to capitalize off of turnovers or good field position that led to this result.
Player's Thoughts
Lead tackler with 8 total tackles, Jack Barton '20 said "I couldn't be prouder of this team. Our heart, determination, and team chemistry was unmatched. I love all my brothers and can't wait to see what the boys do next year."
Ford Buckner '20 said, "Our season didn't end how we wanted to but we gave it our all and I think it's safe to say we all left it on the field."
From the defense, Chase walker '20 said "We stuck in there the whole game and unfortunately a few plays didn't go our way. I'm still proud of the whole team though."
Rance Holman, QB1, said "This season and really the last four years have been amazing. Everyone has really bought in and elevated this program."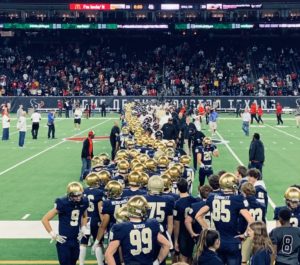 Coach's Thoughts
Head coach Brandon Hickman had plenty to say as he reflected over the season, the seniors class, and the grit and character of the team in general.
"The season was amazing.  I'm so proud of this senior class and the young men they have become.  We have been fortunate to watch them mature and grow the last four years in our program.  Very impressed by their hard work and commitment to each other and our coaches.  We played a very tough schedule and competed like champions throughout the last 14 weeks.  This group did something no other Jesuit football team has ever done over the last 15 years in the UIL playing in the highest classification 6A.  They knocked off an East Texas powerhouse snapping their 27 game win streak.  They beat a playoff team with an 11-1 record and went down to the wire with one of the most elite programs in Houston. More importantly, they did it the right way with high character and class.  The chemistry of our team was amazing and these seniors definitely left their legacy on Jesuit Ranger football.  I'm proud to be their coach and grateful for all the sacrifices they made to be the best they could be for each other.  This team always played hard and believed in each other and our coaches.  We built a trust and bond with one another that will last forever."
Congratulations to the Rangers on a historic season, a historic team, and a senior class that looks to transferring this success into the rest of their senior year and their next step moving forward.
Until next season…