After enduring a long rain delay Friday night, the Jesuit Rangers vs Plano West game was moved to Saturday morning at 10:30am. However, that didn't stop the Rangers from coming out hungry for another win: 42-0.
In the away game at John Clark Stadium, the Rangers erupted early on. They were led by Junior Quarterback Kevin Shuman, who threw for 4 touchdowns in just the first half. The defense also had a monstrous game, holding Plano West to a shutout.
Offensive Domination
The offense started off quick, with Kevin Shuman connecting with Senior Receiver Nick Hafertepe for a 17 yard touchdown on their first drive of the game. Shuman wasn't done there, however, as he eventually threw to three different receivers, all for touchdowns within the first half.
Some other offensive standouts were running backs E.J. Smith and Chase Phillips. Junior E.J. Smith rushed for a monstrous 154 yards and a touchdown on just 17 carries. Chase Phillips '20 also rushed for his first career varsity touchdown!
Lockdown Defense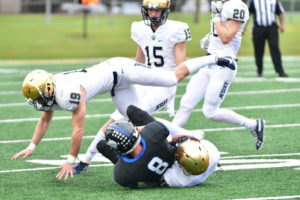 Now on the defensive side of the ball, Senior Cornerbacks Jacob Jowdy and Colin Lark, led the Jesuit Rangers to an outstanding performance with 7 tackles each. Junior Linebacker Houston Hummel snatched his first interception as well as contributing 5 tackles in their dominating victory. The Jesuit Rangers defense posted their first shutout since 2015, with their 42-0 victory over Plano West.
When asked about Saturday's victory, Senior-Captain and Defensive End, Andrew Gregory said he was "super proud of all the guys not letting the weather effect them and the way they played."
After an electric performance, Senior Jacob Jowdy was "impressed with [their] defense shutting them out."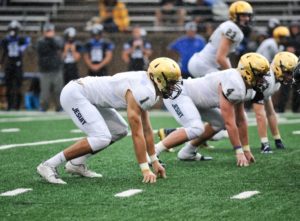 Its great to see the Jesuit Rangers offense and defense prevail to such success, even through the weather delays they have been faced with this season!
Junior Chase Phillips said "the guys remained concentrated all Friday night and then Saturday morning [they] came to play."
Now after their dominant performance, the momentum carried over into the locker room as Coach Hickman and Woods showed off their dance moves! Senior Jacob Jowdy also stated he "loved seeing Coach Hickman and Woods dance after the game!"
Next week, the Jesuit Rangers buckle up at home, facing McKinney Boyd at Postell Stadium. Come out and show your support!
GO RANGERS!