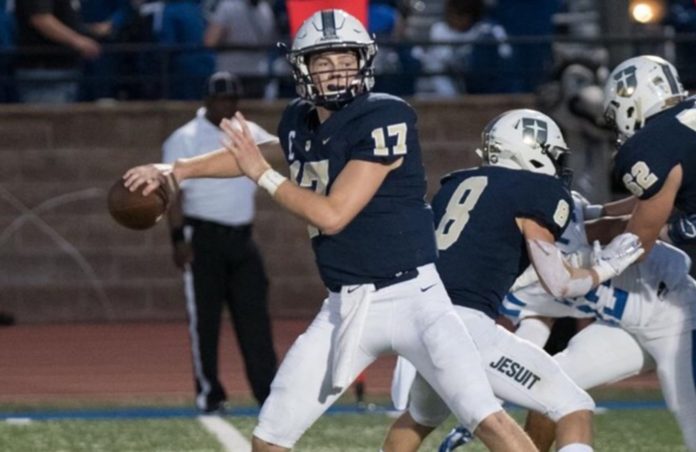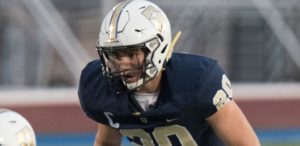 After last week's exceptional performance against Prosper, the Jesuit varsity football team traveled to Allen last Friday to face the mighty Eagles in a clash of the titans. The crowd was huge under the Friday Night Lights with almost 6000 people in attendance. Both teams were undefeated in district, and a crucial win on September 18, 2019, would lead to a #1 place halfway through the season. Unfortunately, the stars did not align for the Jesuit Rangers at Allen, despite adding sixteen points in the last quarter. As Ford Buckner '20 said, "we fought hard and came in ready to play, but unfortunately we just couldn't get the win."
First Half
Allen came out with high-intensity, ready-to-play attitude within the first minute of the game, scoring on a two-play, 80-yard opening drive. Despite the Rangers' quick field goal response, the Eagles soon came back with another touchdown, making it 14-3 halfway through the first quarter. The Rangers had a difficult time getting past Allen's stout defense, which produced a fumble and forced Jesuit to punt numerous times.
The Eagles scored another touchdown in the second quarter quickly, as they scored on an 87-yard Sharpe pass, only ten-seconds  through the second quarter. After two E.J. Smith touchdowns with a couple of field goals, the Rangers found themselves twenty-four points behind at halftime. Senior Jack Barton stated that "moral was good at halftime, we always think we had a chance to win the game and wanted to come out in the second half with high intensity."
Second Half
Jesuit's defense came back in the second-half tenaciously, creating a low-scoring third quarter. The Eagles only had one field goal the entire quarter, so props to the defense for forcing them to punt.
The fourth quarter was a little different. I can sum up the fourth quarter in two words, one name. Kyle Heckel. He went insane in the last five minutes of the game, scoring on a 93-yard run and passing to Wyatt Garrett for a 74-yard touchdown. It was an absolute frenzy, as there were successive one-play touchdowns. Despite Jesuit converting two two-point attempts, Allen maintained their defensive edge to win 58-33. Rance Holman '20 reflected on the game and thought that "this game helped us see where we need improvement, and really showed us how tough competition in this district can be."
Conclusion
Overall, I think we shouldn't take this game out of context. We are a good team, and Allen is just Allen. They put on the best game of their season. One highlight is our 33 points, which is relatively high, showing the strong offensive output during the game. A 3-1 record in one of the toughest UIL districts is definitely respectable, and the team is performing well. The hard work and dedication are being shown in these competitive games, and I honestly see us getting a shot at playoffs, and making a solid run. The defense will easily bounce back from this loss, and look to move forward towards the next game. The Rangers play Plano Senior High in our homecoming game at 7 P.M. on October 25, 2019, so come out to support your Rangers!
Stay tuned to The Roundup for coverage of Jesuit football! Go Rangers!