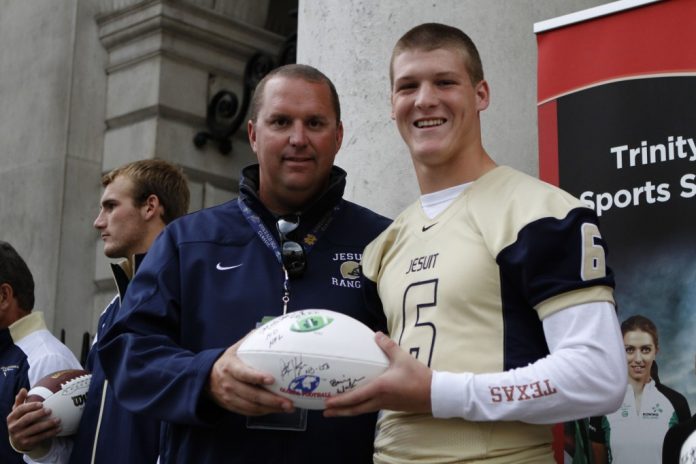 Most Jesuit students found themselves pursuing leisurely activities or taking on summer jobs during the 2012 summer break, but for Jake Oliver '13 the summer was filled with football, football, and more football.  From June until early August, Oliver worked diligently to improve himself as a player, as well as prepare himself for a successful career at the University of Texas next year.
Along with the usual strength and conditioning camp and Jesuit-organized 7-on-7, Oliver also participated in two other football camps this summer, "The Opening," sponsored by Nike in Beaverton, Oregon, and "Gridiron Kings" at the Wide World of Sports in Orlando, Florida.
In early July, Oliver flew up to Beaverton, Oregon to participate in his first major football camp of the year.  The Opening, in its second year of existence, drew an impressive assortment of high school athletes, including seven of the top ten players in the nation, and a staggering eight USC recruits, one of which is the number one overall recruit in the nation, quarterback Max Browne.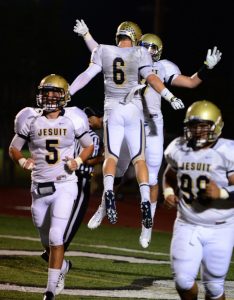 Oliver participated in a variety of different activities, including a 40-yard dash, vertical jump, and 20-yard shuttle.   The scores to each of these events were tallied, and although Oliver did not win, he was competitive with some of the nation's best football players.  "Those guys were really good," marveled Oliver, "but I think I thrive on that kind of competition."
To end the week, Oliver competed in a 7-on-7 tournament, which is essentially organized touch football without linemen, where he was able to catch passes and run routes against some of the nation's finest.  Oliver summed it up, "It was a pretty fun week, overall, and I feel like I got a better taste of what D-1 competition will be like at UT."
After The Opening, Oliver headed back to Big-D, but not for very long.  A few weeks later, Oliver departed for another football camp, the 7-on-7 camp, "Gridiron Kings" on July 25th.  This camp put together 65 football players (skill positions only) from 22 states, and organized them into four teams by region.
Oliver played on the Southwest team alongside district rivals such as DeVante Kincade (QB-Skyline), and Ra'Shaad Samples (WR-Skyline).  Each team had an opportunity to play the others, and as this tournament progressed, the Southeast team, unfortunately, prevailed as the winner as they have in three of the past four years that the camp has existed.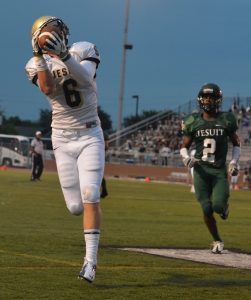 "I was disappointed, but they were really stacked," remarked Oliver, "It was a once in a lifetime opportunity, though, to play against those guys who I'll see later in my collegiate career."
After the prestigious camps were done, Oliver returned home to start his final season as a Jesuit Ranger, he commented "The camps were a lot of fun, but I was ready to get back and start the season."
Now, just five games into the season, Oliver remains just a few catches away from breaking the state record for receptions set by UT's Jordan Shipley, and could break it in the next game against W.T. White.  Oliver also just received his jersey for the Under Armour All-American game in early January, an honor that no Jesuit Ranger has received before, which is impressive in its own right.
The future is very bright for Oliver, and we are sure to hear from him after his time as a Ranger. But for now, he looks to cap off a monumental career at Jesuit this season, and he hopes to continue his domination next year as a Longhorn.