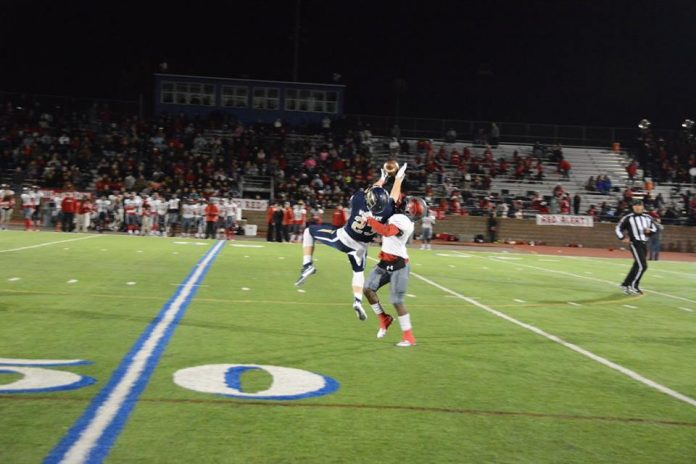 The familiar crowd erupts in an explosion of cheers as the Jesuit freshman football teams charge onto the pristine turf field, opposed by the boys from Plano East. Gathering together, the Blue and Gold teams bow their heads and take a knee on the Jesuit field, mentally preparing for the games ahead, knowing that their performance represents not only their team but also Jesuit. Before long, the referee's whistle pierces through the noise of the thundering crowd, alerting both teams to brace for kickoff. Taking their place, the Jesuit freshman Blue team stands ready for the kickoff, as the blinding stadium lights dance upon their battle tested helmets.
Both teams fought hard, yet the Blue team came out on top with a 48-8 win over Plano East. When asked to comment on the team's performance, freshman head coach Bob Wunderlick said, "The Blue team managed to throw 4 touchdown passes, all to different receivers, and they ran the ball well." While the offense played a pivotal role in the win, according to Jack Surgione '20, "Defense played great, too; we did a great job at closing off their run game."
The Jesuit freshman Gold team came out with a towering win over Plano East as well. With a 42-0 win under his belt, quarterback Jonathan Paredes '20 spoke about what went well. "Our defense and our offense did their jobs," he said. "It's as simple as that." These words perfectly encapsulate how the boys in Gold triumphed over their opposition. With their heads held high, "[they] will go into next week playing even better," said Wunderlick.
Overall, both teams played great and will continue their win streak into their next game as they face off in an away game against Euless Trinity.