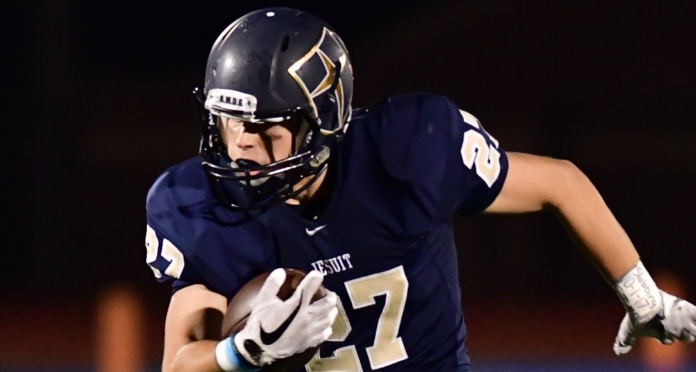 E.J. Smith '20 snagging a last minute interception against Skyline, Parker Towns '18 rushing for a last second touchdown against J.J. Pearce, these are two thrilling conclusions to the Rangers' last two games.
In fact, all of Jesuit football's last three games have been wins. They have won versus Richardson, at Skyline, and finally last week at J.J. Pearce in the weeks leading up to their homecoming match-up against Lake Highlands this week.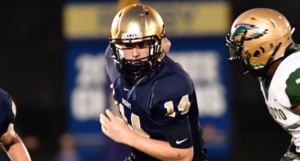 But three weeks ago, Jesuit scored a decisive win over the Richardson Eagles 56-34 at home. "Since we've hit district…we've played extremely well," said varsity coach and offensive coordinator Jonathan Short. He cited the Rangers' tough non-district competition as preparing the team for the season.
They certainly seemed prepared against Richardson given that they put up 56 points. E.J. Smith played especially well, contributing a whopping five touchdowns.
It's that sort of running that Coach Short loves: "We always try to get the run game going, and that's been predicated by the offensive line. When that's going it allows Parker to find holes and put the ball in receivers' hands."
He said that the offensive line has been playing well and helping the team succeed under the leadership of senior quarterback Parker Towns. While the game was tied 28-28 heading into halftime, Jesuit far outpaced Richardson in the second half to come out on top.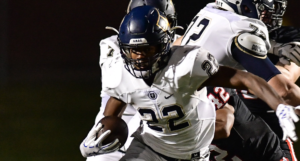 Coach Short also mentioned players at Jesuit's skill positions, players that helped secure their 35-31 win at the Skyline Raiders. Even before E.J. Smith intercepted the ball to secure the win late in the fourth quarter, Towns had found wide receiver Jack Hadju '19 in the end zone twice to go ahead late in the game.
WR Fletcher Rosenbleath '18 had over 150 yards receiving, and RB Matthew Priddy '19 recorded another touchdown for the Rangers. "We've got a ton of guys contributing in different ways," said Coach Short. "That's why we're having the success we're having on offense."
Senior defensive lineman Phillip Villalba, who got two tackles in the Skyline backfield on the night, said that the defense had a good showing. "We were up at halftime, only by a couple points, but regardless I think the defense was doing really well." He continued, "They had negative rushing yards by the end of the first half, and as a D-lineman that's exactly what you want."
Jesuit has beaten Skyline for three years in a row, an impressive feat considering that the Rangers had gone six years without a win before 2015.
"They still have a lot of talent over there, and I think what's happened is that every year we got closer and closer and closer and we kept chipping away," said Coach Short.
Now he says that every time Jesuit steps on the field against Skyline, they know that they have the ability to win: "It wasn't that we were going to compete with these guys. No, it was that we were going to beat them."
Last week, Jesuit extended its win streak to three with a 38-31 win at the J.J. Pearce Mustangs. Towns won the game with an incredible 21 yard rushing touchdown with less than 15 seconds left in the game.
Smith also had a stellar game in the backfield with two TDs, and Rosenbleeth had another night with over 100 yards receiving.
Some of the younger players on defense were able to shine as well, with sophomore Christian Allocco recording ten tackles.
"Defensively, I know we have a lot of young guys that are playing in the secondary right now, so having those older more established guys up front at the box…helps takes some of the pressure off of those guys," explained Coach Short.
He said that the success that Jesuit has had in its past three games has been in large part due to how the offense and defense can work in tandem.
"As a team I think our guys have done a really good job of sticking together, and one of the biggest characteristics we have is that we stick together and we know how to fight through adversity and get wins. I think the last few games have shown that." Short said, "When one side of the ball needs a little help, the other side of the ball is there to pick it up."
Looking forward, Jesuit hopes to extend the win streak to four games against Lake Highlands this Friday, October 27th, at 7:30 pm in Postell Stadium.
Coach Short respects the match-up: "They're a playoff caliber team, and they're one of the ones in our district. They're in the middle of the pack, one of the ones that's fighting for a playoff spot." This should make for a contentious game as Jesuit is also hoping for a playoff spot in the district.
Make sure to come out and support your Rangers. The Lake Highlands game is the homecoming game, so expect a crowd and plenty of excitement. Stay tuned for the latest results from varsity football and other sports.