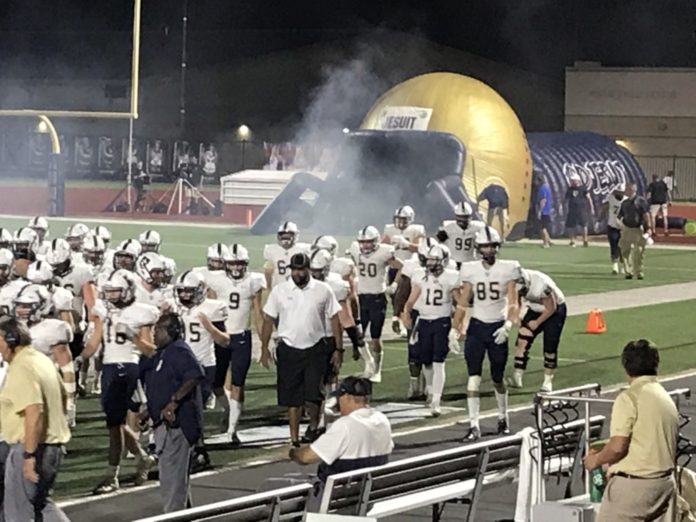 Golden syrup drips down the side of the light brown cake, a golden-brown crisp protecting its fluffy beige interior. One cake, two cakes, three cakes, four. Some might call it a "fat stack," while others stuff their mouths with the breakfast delicacy.
Those weren't the pancakes Inside Linebacker and Tik Tok connoisseur Tommy Roy '20 served at last Friday's game. They looked a little more like this: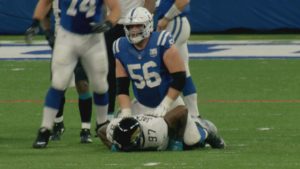 This past Friday, September 13, Jesuit's varsity football team celebrated its first win of the season with a 31-10 victory over Wylie. The Rangers close non-district play with a 1-2 record ahead of next Friday's district opener at Postell Stadium against Plano West.
Rangers vs. Pirates, 9/13/19
Rangers Defense
Jesuit's defense showed up hungry at the Wylie ISD stadium, holding the Pirates to 240 yards of total offense and limiting their passing game to 67 yards on 22 pass attempts while converting two interceptions.
Peter Melle '21 recorded the first defensive touchdown of the year on a 33-yard interception return in the third quarter, while Ethan Lane '20 added his first career interception. Melle's interception return for a touchdown is the team's first "pick six" since 2015, when John Michael Priddy '16 recorded a 98-yard interception return in the playoffs to send Jesuit past Mesquite Horn.
Captain Jack Barton '20 led the team with ten tackles. Tommy Roy '20 recorded three tackles for loss, including a pair of sacks that cost Wylie 19 total yards. Roy would finish the contest with six tackles alongside Jack Judson '21, while Chase Walker '20 and Mitchell Campbell '20 recorded five tackles each.
Barton lauded the defense's dominant performance: "I think the pick six we had shows how special this defense can be and I believe there will be plenty more of that. We started a new motto on defense this week, and I think it gave us some good mojo for the game. Hopefully next week against Plano West y'all will get to see what it is."
His comrade, Austin Wood '20, echoed a similar sentiment: "For us defensively, we just wanted to dominate the line of scrimmage and disrupt what they wanted to do, and I think by the end of the night, we had done that."
Rangers Offense
Jesuit's offense put up a season-high 31 points against the Pirates. From the Hogs on the O-Line to Garrett Brockwell '20 and everyone in between, the Rangers' offense challenged their tunnel vision and played as a unit.
QB1 Rance Holman '20 lived up to his namesake, throwing 149 yards for three touchdowns. EJ Smith '20 made his season debut in a valiant fashion, catching two passes for 39 yards and a touchdown in addition to eight rushes for 50 yards, averaging 6.3 yards per carry. Jake Taylor '21 rushed the ball a team-high 11 times for 52 yards and caught a touchdown reception. Wyatt Garrett '20 caught his third touchdown of the season on a 24-yard reception in the first quarter.
Taylor left Plano West with an ominous message:
"Offensively, we have so much talent and such a good o-line that I think we will surprise a lot of teams. The coaches have done a really good job of getting us prepared for the game,and I'm ready for district play to be here."
This Friday, the Rangers will return to Postell Stadium to battle Plano West. Their district kickoff is scheduled for 7 p.m. at Postell Stadium. The theme is TBD.
Stay tuned to The Roundup for more updates from Jesuit's Friday Night Lights!