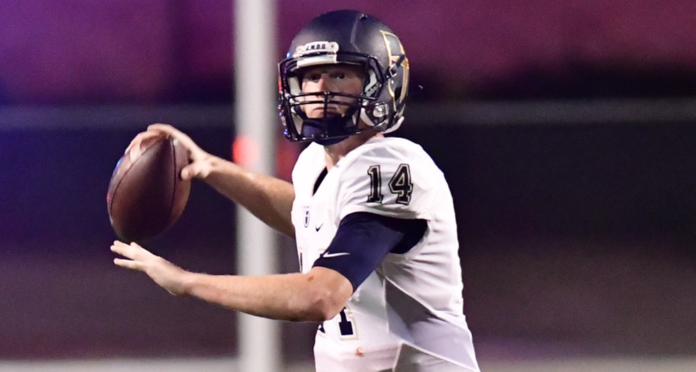 It's been another undeniably stellar season for Jesuit football. The Rangers won the bi-district championship for the sixth year in a row before finally falling in the area game.
The Rangers entered the playoffs on a six game winning streak, including two resounding victories against W.T. White and Berkner. They bested Lakeview Centennial in the district round but lost to Longview on November 25th.
Jesuit ran all over W.T. White on November 3rd, winning 55-21. They outscored the Longhorns by at least a factor of two in all quarters but the fourth, but at that point the game was in the bag. This win secured the Rangers' playoff spot as well, much to the pleasure of head coach Brandon Hickman.
"I thought we performed very well against WT White and Berkner," he said. "WT was senior night so our guys wanted to perform well playing a possible last home game."
Berkner was Jesuit's next opponent, and the Rams fared even worse against the Rangers on the 10th. Jesuit led 35-0 at the half, only allowing one Berkner one touchdown in the fourth quarter.
"The Berkner game was our last district game so we wanted momentum heading into the playoffs and our team played excellent. That last district game can be a trap game because it really had no playoff implications," Coach Hickman explained. "We witnessed the maturity of our kids taking the game serious and taking care of business finishing district strong."
That placed Jesuit in the playoffs with an overall record of 6-4 and set to play Lakeview Centennial on the 17th with plenty of momentum. Lakeview didn't go down without a fight, but Jesuit's offense was firing on all cylinders.
134 total points were scored in the game, but Jesuit came out on top with 79 to Lakeview's 55. The Rangers even set a new program scoring record.
"There were a lot of points scored in our bi-district playoff game, but we only have to win by one point and advance to the next round," Coach Hickman said of the shootout. "I thought Lakeview had a strong rushing attack and impressive freshman running back. Our kids found a way to win and advance."
Hickman was right about the running back, Camar Wheaton of Lakeview; he rushed for 67 yard and 81 yard touchdowns in the second quarter. Lakeview managed to find some holes in Jesuit's defense and break away for multiple big plays in the game.
Senior defensive lineman Phillip Villalba was happy with the win, but he also admitted that "the defense really struggled. We had lot of guys go down injured which was unfortunate, but it was nice to see guys stepping up and filling in. I was rather disappointed in the way we ended up playing, but I knew we had a chance to get better over the break."
However, Jesuit's offense still outscored Lakeview's in the first, second, and third quarters to get the Rangers the win. Quarterback Parker Towns '18 rushed for a pair of touchdowns, one of which was 40 yards, but he was also a passing threat as always. He threw for 320 yards and three touchdowns.
Sophomore running back EJ Smith racked up more yards than ever, 183, with a 52-yard score that secured the game for Jesuit heading into the fourth quarter. Fletcher Rosenbleeth '18 put an end to a final fourth quarter effort by Lakeview with the last touchdown in his last home game. Jesuit again won the bi-district championship.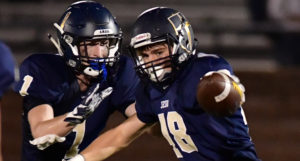 After advancing past Lakeview, Jesuit faced Longview in the area championship at a John E. Kincaide Stadium in South Dallas. It was a tough night for the Rangers, and a tough game to end the season on as they lost 75-43.
"The Longview game we felt our game plan was solid but it didn't go as planned. We turned the ball over and gave up a couple sacks and had trouble stopping their offense," said Coach Hickman.
He added that Longview had some very fast players. This was certainly an issue as they also broke away for multiple big plays and long touchdowns. "When you play a good team you have to take care of the ball and get some turnovers and we didn't do that," he concluded.
Villalba explained that it was tough to have to practice during Thanksgiving break leading up to the game, but he said that "I was glad to have the opportunity to play during thanksgiving."
An interesting characteristic of Jesuit's final game was where both teams got their yards. Both Jesuit and Longview got over 600 yards apiece, but Jesuit had 433 passing and 183 rushing while Longview had only 165 passing but 490 rushing. This speaks to the big plays that Longview had on the ground with their speedy running backs.
Still, Jesuit had a good offensive showing with plenty of yards and points even though the game ended up being a loss. Towns concluded the season with a 61-yard toss to Rosenbleeth, the two seniors connecting in their final game together.
Towns actually led the entire Dallas area in passing yards on the season (3,566), and Rosenbleeth led the metroplex in receiving yards (1,619). As if that wasn't enough, EJ Smith led Dallas in rushing yards with 1,279. The three players were part of an offense that truly dominated opponents this season.
"This season was a success and we are looking forward to next year returning many back on both sides of the ball," said Coach Hickman about the season as a whole. "We plan to have a great off-season starting in January so we can come back even stronger next season. I'm happy with the way our team represented Jesuit and every week playing with class and heart."
Unfortunately, a few key offensive seniors like Towns, Rosenbleeth and others are leaving, so Jesuit may not be able to put up so many points next year. A key place where the Rangers need to improve is in the defense because opponents were able to record big plays and plenty of points in the postseason.
Still, it was another successful season from the Rangers with them bringing home another big district championship. I believe that this team can do it again next year and maybe do even more.