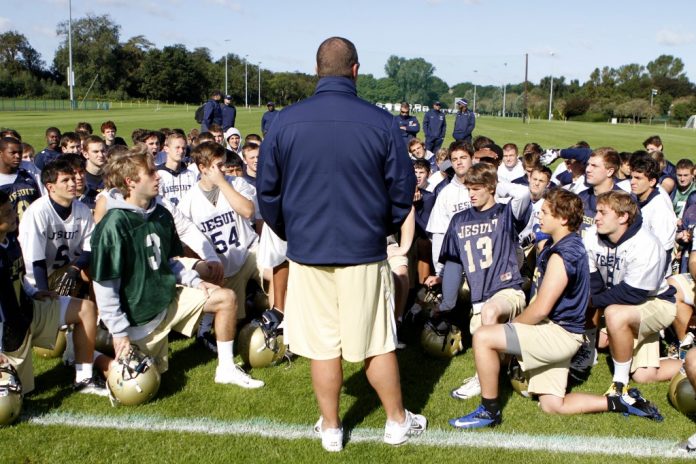 Following the triumphant win over Strake Jesuit, Head Football Coach Brandon Hickman was bestowed the honor of being named Coach of the Week by maxpreps.com. To kick off his second season as Head Football Coach, Coach Hickman has lead the Jesuit Rangers to 3-1 start, with convincing wins over Loyola Academy, Fossil Ridge, and Strake Jesuit, and Richardson Berkner which ended with a final score of 52-7. Coach Hickman has put in the time and effort with his team and it appears that it is finally paying off.
Coach Hickman spoke about his reaction to the news, "I was honored and surprised at the same time, [but it] would not be possible without great kids who are willing to work hard. We also have a solid coaching staff who are true professionals and fun to be around every day." This just goes to show that football is a team game and everyone must work together before any one person can succeed.
This award meant a lot to Coach Hickman, but he has not lost sight of his goals and values or that of the teams. To Hickman, this award means "that hard work pays off… but I would much rather have our guys reach their goals this season. It's not about me; it's about these players on our team and seniors who have put the time and effort into making this a special season. I want them to experience the feeling of winning a playoff game or championship." It was a very rewarding moment for Coach Hickman, but he is still hungry for success and wants to be able to share it his team.
Coach Hickman did not just arrive at the top of his coaching profession immediately; it was a long journey that dates back sixteen years. As Coach Hickman explains, "I thought I knew it all coming out of college, but quickly found out it's a long process. You have to be open to grow, patient, and try to soak up as much information as possible. I was willing to change over the years and challenge myself every year to improve. You cannot stick with your old ways, because the game is always changing. You have to be willing to try new things to help your players be successful." It took some time for him to learn these values, but it appears that it was worth the hard work.  After a short stent at Jesuit and two other assistant coaching jobs later, Coach Hickman was rewarded, by being named Head Football Coach at Jesuit in 2011, and with luck, he is here to stay.
It is important to remember that Coach Hickman was named Coach of the Week for a reason. He is known as a great leader and teacher to all of his players. "He is a fantastic leader and has a great football mind; he really knows how to scheme," said Pierce Durham '14. When Jack Summers '14, an offensive lineman, was asked about how Coach Hickman has helped him as a player, he commented that, "he is a great coach; he has always been there for me and has helped me get done what I needed to get done."  Hickman inspires his players and brings them to their full potential. Coach Hickman is a deserving recipient for the award because he exemplifies everything a coach needs to be.
Coach Hickman was once a student of the game as well and he learned his craft from some of the best. When asked about his role models, he revealed that the man he most admires the most is Pat Sullivan, a man who won a Heisman at Auburn and coached Hickman during his time at TCU as a player. "I respected [Coach Sullivan] as a family man and his character. He truly cared about you, not only as a player, but person. He wanted everyone to graduate with a degree and be successful after football. He always made you feel important and challenged you to achieve your goals. Coach made you feel like you were part of his family. He created that environment throughout the program which changed TCU football in a very positive way," said Coach Hickman. Sullivan made him into the man he is today.
Hickman has experienced a lot over his sixteen year tenure as a football coach and his football career. He has been coached by one of the all-time greats; he has coached at multiple schools; he took a team to Ireland; and he has now been named Coach of the Week by maxpreps.com. Right now, he is leading our Jesuit Rangers, and with his experience and success, the Rangers guarantee a promising season.
Good luck to Coach Hickman and the 2012 Football Team as they look to build on their early success.