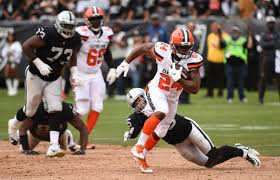 With the fifth week of football kicking off this Thursday night between the Patriots and the Colts, there are many players you should hope to snag or possibly drop before the start of the week. A big part of Week 5 is players returning to the field after serving 4 game suspensions. These players will hope to make an impact as soon as they can, but for some, it won't be quite as simple as that. Per usual, injury has wreaked havoc upon many fantasy seasons, but opportunity to salvage these "ruined" seasons comes through the waiver wire.
T.J. Yeldon
Probably the most hyped up waiver wire pick up for this week is Jaguars running back, T.J. Yeldon. Starting running back Leonard Fournette cannot seem to catch a break so far this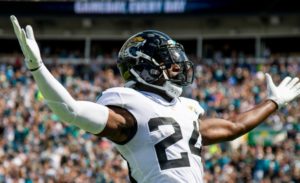 season after missing part of Week 1 and all of Weeks 2 and 3 due to injury. He returned to Week 4 only to exit, once again, in the middle of the game with an injury. Yeldon is the number 12 ranked running back on the season, and is a player with a high ceiling, demonstrated through dominating performances. Yeldon is a dual threat back, displaying a dangerous set of skills in both running and passing plays. While Yeldon is obviously no Leonard Fournette, he is a great fill-in until Fournette's return, and could be a solid flex option for the rest of the season.
Marquise Goodwin
Injury, injury, injury. That basically sums up Marquise Goodwin's season through 4 weeks. The speedy, deep-threat wide receiver for the 49ers missed the first 2 weeks with various leg injuries. He still is not completely healthy, as he has ongoing hamstring and quad injuries. His return in Week 3 was a mediocre performance, as he caught a mere 3 passes for 30 yards and 1 lucky touchdown, in which he was left uncovered. He followed up in Week 4 with an atrocious 2 catches for 24 yards. This has something to do with the other injury that will drag down his fantasy production: Jimmy Garoppolo's ACL tear.
Garoppolo was supposed to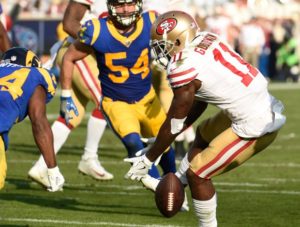 be the quarterback that knew how to get Goodwin the deep ball, but that notion was halted after his season ending injury. C.J. Beathard, Garoppolo's replacement, is not much of a risk-taking quarterback and will continue to struggle getting Marquise Goodwin the ball. I'm not giving up all hope in Marquise Goodwin, as all he needs is one big play to have a solid fantasy week, but the odds of that happening with C.J. Beathard are just too slim for me to take a chance on.
Keke Coutee
Texans' rookie receiver Keke Coutee had a great Week 4 after Will Fuller V left the game with an injury. In his first NFL game, he was able to catch 11 passes for 109 yards against Indianapolis on 15 targets! 15 targets! For a guy owned in less than 15% of all leagues, a performance like that is worth looking into. Will Fuller V is known for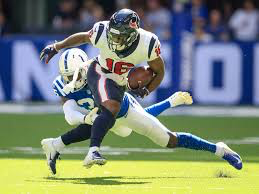 being an injury prone player, and he is still questionable to play in Week 5. Coutee could be a great flex option in Week 5 if Fuller doesn't play, or is on a snap count. Getting 15 targets in a game shows that he is an afterthought for secondaries, he can get open, and his quarterback trusts him. It's easy to say that a player having one good week is a fluke, but getting that kind of volume and yardage is a great sign going forward, making Coutee a player you should keep an eye on heading into Week 5.
Mark Ingram
Week 4 is over, meaning some players are cleared to play because their suspension is over. Players like Mark Ingram, who finished the 2017 season with 1,124 rushing yards, 416 receiving yards, and 12 touchdowns, will return to the field this week. Mark Ingram was a beast in fantasy last year, but will he be able to repeat his domination? Last season, Ingram and Kamara were able to balance their roles: Ingram played as a between-the-tackles back, which played strongly on his stocky, muscular build, while Kamara was an open field and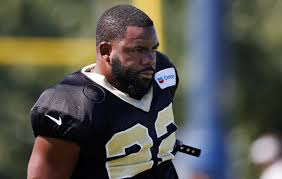 pass-catching back, which allowed both running backs to do what they did best and still have good fantasy performances.
This year, however, is different, as Kamara has played the first 4 games without Ingram, giving him the opportunity to prove his value as a starting running back. Ingram will have to fight for his spot back and try to have the same role he had last year that made him such a great player. I believe Ingram can easily pull this off, but I would keep an eye on him in Week 5, and if you have better options, maybe wait a week to see how he performs.
Nick Chubb
Browns' rookie running back, Nick Chubb, showed that he is a rising star amongst running backs in the league. He has been limited on carries so far, but despite this, he had a productive Week 4. Chubb was handed the ball only 3 times, but ran for 105 yards and 2 touchdowns, giving him an average of 35 yards per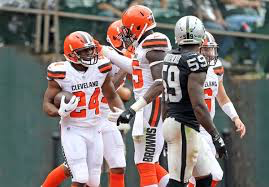 carry. These runs included a 63-yard touchdown run followed by a 41-yard touchdown run. The rookie has consistently lacked volume so far, but Browns' coach Hue Jackson has hinted that that will change. Chubb shouldn't see a massive jump yet, as running back Carlos Hyde receives most of the carries in Cleveland. However, if he continues to perform well, he could quite possibly earn himself the RB1 spot in Cleveland.
Injuries
If there is one thing to remember entering Week 5, it is keeping an eye on injuries. Injuries have been the downfall of many players, and in some cases, entire offenses. If you are starting players who are questionable, do some digging and see what you can find about them. Also, the NFL Pre-Game gives helpful insight around injuries and can tell you a coach's game plan for a certain player. This can be important for some teams if a coach limits a player's snaps right before the game. Watch the waiver wires, keep an eye on injuries, and monitor your players performances, especially if they are returning from injury or suspension.
Good luck and go Cowboys!