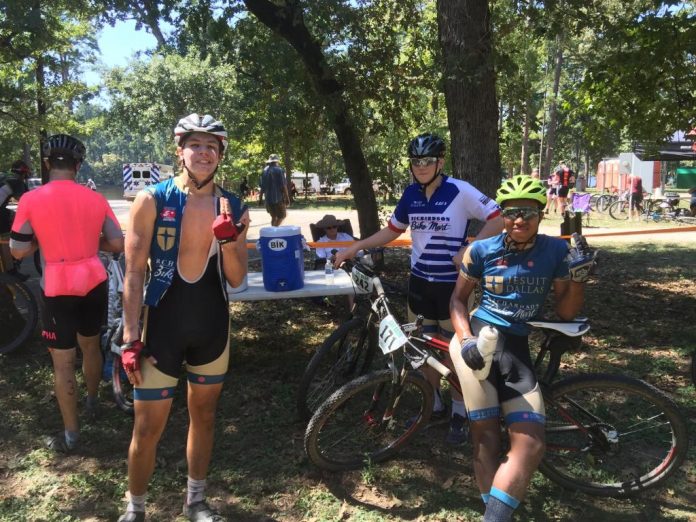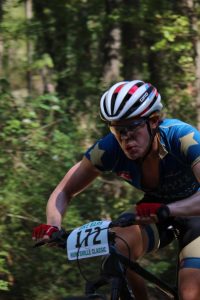 Struggling to keep balance as their knobby tires rush over roots, rocks, sand and other insane terrains, the Jesuit Mountain Bike (MTB) racers fly down steep descents and sprint up long heartbreaking climbs all around Texas, getting faster with every passing ride they finish. The Jesuit MTB team raced on challenging courses in Waco on Sunday, September 27th and also in Huntsville on Sunday, October 4th, proving that their experience on bicycles goes much further than just riding on the road.
The Jesuit MTB Team has riders racing in the novice and junior varsity category, but none have reached the rank of varsity in the Texas High School Cycling League's history. To race in the novice category, one must have a USA cycling license and be a category 3 MTB racer, the first rank anyone gets when they apply for a license. Once the rider feels that he is ready for bigger and better competition, he can "cat (slang for category) up to a category 2 mountain biker" said Dalton Walters '16 who is a category 2 racer. And if the rider excels beyond that category, he can choose to "cat up" to a category one racer and he will race against the other cat one racers and professional mountain bikers alike, a very high level of competition for a high school student. These categories divide the scholastic racers among their skill levels and establish the length and difficulty of the race.
In Waco on the 27th, Dalton Walters '16 placed sixth out of fifteen in the junior varsity division, beating many local riders from Waco and other mountain bike enthusiasts. In the novice division, Thomas Whitaker '17 placed 1st out of twenty riders, among whom were his teammates Kolbe Surran '18 who finished 18th and Noah Holben '19 who tragically couldn't finish due to a mechanical problem with his front brake. As a fourth-year mountain biker, Walters '16 likes how "[he] can see [his] leadership in practice lead to strong finishes by his teammates." He especially loved seeing "Whitaker dominate the novice race" because "[he] feels like [he's] personally contributed to his success," seeing his veteran advice and coaching pay dividends for his friend.
The novices, Surran '18, Holben '19, and Whitaker '17, agreed that they all felt "outstanding" on the race day, but misfortune struck Surran '18 as he devastatingly crashed into a tree, slicing a gash into his leg. But Kolbe's grit and determination helped him finish, making his teammate Noah Holbea '19 say "he's crazy to finish with a cut like that, his leg was nearly covered in dried blood and dirt." Surran '18 wished that "[his] teammate [Holben] had been there to help [him]," saddened by his isolation from the main pack for almost the entire race.
"The biggest win of the day was definitely Whitaker's" said senior Dalton Walters '16. "He just put the pedal to the metal from the start and never looked back," winning by a long shot according to Noah Holben '19. Whitaker said he felt great and even remarked on how his time could've been even faster if he hadn't tragically dropped his water bottle, which is vital for any competition in over 100° weather. He even reported seeing "hallucinations" at one point during his race, making his commanding victory of over two minutes even more impressive.
After the Waco race, the MTB team went back to practice for two weeks to recover from their hard fought finishes. Then on October 4th, they got back on their bikes for another race in Huntsville, TX. During the break, Whitaker '17 advanced up to the junior varsity division, racing against his "mentor" Dalton Walters '16 and both novice racers, Surran '18 and Holben '19, bought new mountain bikes over the break to improve their speed and maneuverability on the trail.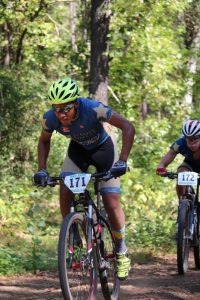 On the day of the big race, Whitaker '17 and Walters '16 started out strong, making it onto the trail in 6th and 8th position respectively out of the twenty rider field. Whoever gets on the trail first, called "the hole shot" by mountain bikers, has an extreme advantage over the rest of the pack because they get to set the race's pace and they can see the trail the most clearly. Once in the tall forests of Huntsville, Walters '16 looked to pass the rider in front of him, but the sand that covers the root-filled trails forced him out of control, causing him to crash and lose 4 places, putting him far behind his teammate. Luckily for Whitaker '17, the next section of trail was a flat downhill where he could use his huge legs to muscle his way past the competition, catching up to his teammate just before the second lap of his two lap race. "Once Tom caught up to me, we could really rail it on the trails. It was just like how we practice, fast and fun." said Walters '16 about the race. By the time the final meters came around, the two Jesuit Racers remained neck and neck, vying to best their buddy in the finish. Hindered by a mechanical malfunction, Dalton couldn't match his friend's sprint, as Whitaker '17 finished 6th and Walters finished 7th, spectacular finishes for the young riders in t`ough competition. Whitaker, who had never beaten Walters in any race over his entire cycling career at Jesuit, said,"it was just my kind of race course and it happened to be on a day where I felt amazing. There were definitely some kinks that need to be ironed out to get faster, but [he's] optimistic for the final race of the season in Tyler, TX."
In the novice race, Kolbe Surran '18 and Noah Holben '19 raced around one lap of the treacherously sandy course on their brand new mountain bikes, crushing their previous race finishes from the Waco race, Kolbe placing 11th and Noah placing 12th out of 20 novice riders. Kolbe '18 looked especially strong, grabbing the attention of his peer Whitaker '17 who said,"He's just getting stronger everyday. I've only seen a few guys who have the drive to get better like this kid does. He's one to watch for the future for sure. Coach Armstrong and Coach Desormeaux haven't stopped talking about his work ethic since he joined last fall as a freshman." The newest freshman Holben also surprised many with his strong performance despite having only been with the team for a little over a month.
With strong performances in Waco and Huntsville, the Jesuit Ranger MTB team looks to continue to get faster and grow stronger. Hopefully the team can have even more success in Tyler, TX on Sunday, October 18th!