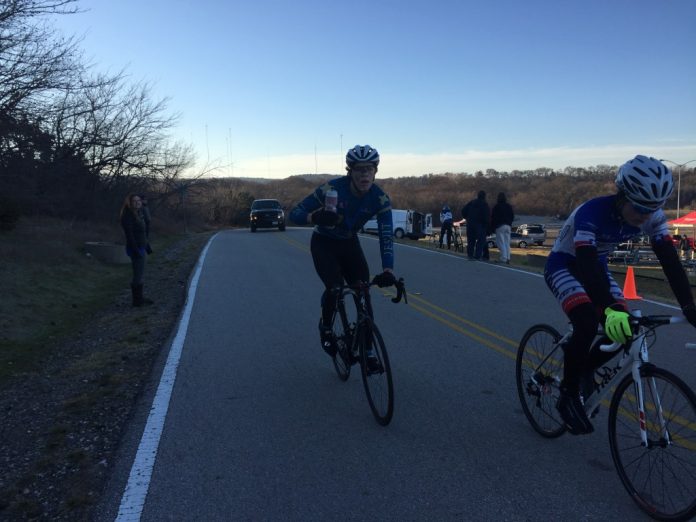 "BEEP BEEP BEEP" the incessant alarm clock blares into the ears of Jake Ingram '17 at the way-too-early hour of 4:30 am on Saturday, February 6th. He determinedly hopped out of bed and into his car, his mind focusing on his goal for the day: win the scholastic road race at the Cedar Hill Race Festival. Ingram and the rest of his Jesuit cycling teammates arrive at Cedar Hill State Park before the sun comes up and get ready to race on the start line at 7:30 am sharp. The USA Cycling official starts her countdown,"5, 4, 3, 2…" blows her shrill whistle, and the scholastic racers sprint off.
This past weekend marked the annual Cedar Hill Race Festival, hosted by Jesuit's very own Andrew Armstrong '01. Mr. Armstrong coaches the Jesuit cycling team throughout the year and uses this race to kick-off road cycling season for the Texas High School Cycling League (TXHSCL) which he runs as well. The race follows a course that is just under two miles long with one short precipitous climb immediately followed by a longer sloping descent. For many years now, the TXHSCL racers have done 8-10 laps of the course to reach an appropriate distance of 25-30 kilometers (16-20 miles). The distance alone may seem hard enough as is, but it also means that racers have to endure the famous hill for however many laps they do. Following that first road race, racers headed over to a different hill to tackle the all-uphill time trial of 1.5 kilometers (0.9 miles) with 70 meters of climbing (220 feet). Then on the Sunday of Cedar Hill race weekend, the course maintains the number of laps, but reverses direction and goes clockwise instead of counterclockwise like Saturday, meaning that racers will climb the long sloping hill and speed down the short precipitous descent.
To start off Saturday's road race, the peleton (the main bunch of riders in a race) kept a chill pace of about 28 km/h (17 mph) for the first four of eight laps. But on the fifth lap, juniors Jake Ingram and Evan Bausbacher with senior Hugo Scala attacked the bunch on the precipitous hill and established a breakaway on the following descent. Thomas Whitaker '17 then responded by pushing himself to bridge the gap between himself and the break, with Dalton Walters '16 following behind him, experiencing Whitaker's famous "suction cup" draft because of his taller height and larger muscles, measuring 16 centimeters (6 inches) over Walters and weighing at 13 kilograms (30 pounds) over him as well. Once Whitaker willed himself and Walters into the breakaway, the Jesuit riders settled into a quick pace of about 32 km/h (20 mp/h). The unprecedented all-Jesuit breakaway stayed together until the "bell" lap, or final lap, when Ingram attacked his teammates on the treacherous hill and established his own break on the descent with his four friends trying to catch up. Ingram sailed across the finish line first, shortly followed by Bausbacher only a few seconds later, and then Walters and Whitaker duked it out for third in the race's only real sprint where Walters overpowered the weakened Whitaker to get third and fourth respectively. Scala crossed the line in fifth, and the rest of the racers came in at sporadic intervals after that. Jake "the Greyhound" Ingram '17 had this to say about his win: "I was just feeling it that morning. My huge legs catapulted me up the hill and nobody could keep up."
After this race, an hour later, the scholastic racers headed over to the uphill TT to see who was the best climber in the league. The fastest climber turned out to be the 13-14 year old national road race champion Lucas Bourgoyne, a freshman at Strake Jesuit, while Dallas Jesuit's junior Evan Bausbacher followed his time by less than one second! Bausbacher and Bourgoyne share many similarities like their shorter height and lightweight bodies that allow them to fly up hills effortlessly. Ingram came in a few seconds slower than the two leaders to get third and then Scala in fourth, Walters in fifth, and Whitaker in sixth. Bausbacher told the Roundup "I wasn't 100% for the TT. I had just given my all on that road race and I think that if I was fresh, I would have surely beaten Bourgoyne, who didn't race in the morning."
For the rest of Saturday, Jesuit students volunteered to help out their coach with the busy festival and raced in their respective categories if they wanted.
Returning to Cedar Hill State Park as the sole Jesuit racer, The Roundup's very own Thomas Whitaker '17 looked at the Sunday race as an opportunity to revise the mistakes he made on Saturday and come away with a victory. Before the race even began, Coach Armstrong gave Whitaker a gold medal for two reasons: because he helped by picking up the medals and because Armstrong said he was "number one in [his] heart" because he passed up on Jesuit's Mother-Son Brunch that conflicted with the big race. Whitaker rushed to the starting line, barely making it in time for the race and he immediately pushed the pace and dropped the weaker riders. On the first time down the descent, Whitaker reported that he "heard metallic rattling" and he looked down and saw the "gold medal" Armstrong gave him still around his neck! "Yeah, it was totally an accident," reported Whitaker with an ambiguous smirk that made it seem as though he did it to get into his opponents head. He thinned out the pack until it was just him and Cistercian freshman John Collins left to lead the race. Collins stayed right on Whitaker's wheel for the remainder of the race until about 300 meters to go, where Collins sprinted past an unsuspecting Whitaker, who had this to say after the race: "I was NOT expecting him to launch that fast… I almost couldn't respond or catch up. [Collins] is a monster at track cycling so I shouldn't be surprised that his sprint is fantastic." But tragically for Collins, he sprinted too soon and didn't account for Whitaker's enormous legs as he pushed himself past Collins and onto victory. Whitaker noted that "once [Collins] launched, I knew I had to respond. I could not get second in this race. I wouldn't have been able to live with myself if that happened," especially because of his "accidental" wearing of a gold medal during the race.
All in all, the weekend was a humongous success for the TXHSCL as a whole because the event raised thousands of dollars for the league and gave the racers a weekend they'll never forget!'