Over the fall semester, Jesuit's cross country team had an incredibly successful season.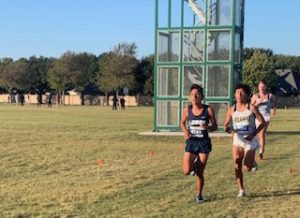 Meet Summary at Myers Park
On Saturday, September 19, Jesuit's cross country team took fourth place in the second round of the North Texas Cross Country Circuit on Saturday at Myers Park.
Senior Henry Domine led Jesuit with another top-five finish, having a time of 16:36.8. Averaging a 5:22 per mile pace, Domine excelled at Myers Park. Senior Kyle Kassen placed seventh with a 16:44.2 time and junior Enrique Borrego placed fifteenth with a 17:23.1.
Sophomore Ben McKinney placed 25th with a 17:47.6 time, a ten-second improvement over his last meet. Sophomore Jack Betz managed to improve a great amount with a thirty-second improvement, making an 18:20.3 time.
Freshman Charlie Thornton won another JV race with an 18:08.41 win. Jesuit's JV placed second thanks to its runners.
Meet Summary Fourth Week of NTCC at Wylie, Texas
Jesuit managed a triumphant win in its fourth and final week of the NTCC at Wylie, Texas.
Varsity runners Kyle Kassen, Enrique Borrego, and Henry Domine placed consecutive top-five finishes. Kassen placed second with a 16:11.8 time. Borrego placed third with a 16:27.4 time. Domine placed fourth with a 16:37.2 time.
Furthermore, other varsity runners, Ben McKinney and Carter Williams placed in the top twenty. McKinney placed thirteenth with a 17:38.4 time, while Williams placed fifteenth with a 17:40.8 time.
Likewise, junior varsity won their meet. Freshman Charlie Thornton won once again, running with an 18:22.8 time. Furthermore, freshmen Francisco Almaguer and Charlie Schwartz placed in the top five. Almaguer placing second with a 19:12.5 time. Schwartz placed fourth with a 19:20.1 time.
Overall, Jesuit performed well at the fourth NTCC in Wylie, Texas.
The NTCC Championship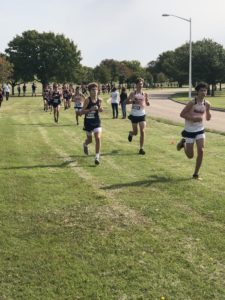 Jesuit dominated at the NTCC championship, winning thanks to great performances from the runners.
Varsity runners were led by Enrique Borrego, who placed second with a 16:01.1 time. In addition to Enrique's great race, Henry Domine and Kyle Kassen placed third and fourth respectively. Domine ran with a 16:07.5 time and Kassen ran with a 16:29.4 time.
Three more varsity runners placed in the top twenty-five. Ben McKinney placed twelfth with a 17:21.3 time. Jack Betz placed seventeenth with a 17:39.0 time. In addition, Adam Stuecheili placed twenty-fifth with an 18:03.9 time.
Jesuit's junior varsity team filled the top five places. And again, freshman Charlie Thornton won yet another meet with an 18:14.5 time. Furthermore, Francisco Almaguer, Ethan Beyer, Raul Hernandez, and Caden Cutchall all placed in the top five. Almaguer ran with an 18:30.1 time, Beyer with an 18:36.5 time, Hernandez with an 18:38.7, and Cutchall ran with an 18:53.1 time. As a matter of fact, all JV runners placed in the top twenty.
What do the runners have to say?
Senior Kyle Kassen had this to say about the meets: "Granted it was a hilly course, I thought the rangers showed incredible resilience and potential to be a top competitor in the ntcc (north Texas cross country circuit)."
Freshman Charlie Thornton said that "I'd just say that it's been awesome to be able to compete especially during these times where not much else is going on and fun to go out and winning individually and as a team for Jesuit. It's an awesome feeling to be able to represent my school and my teammates as a freshman."
Conclusion
All in all, Jesuit's cross country team performed excellently at their meets, showing great endurance and speed in their endeavors.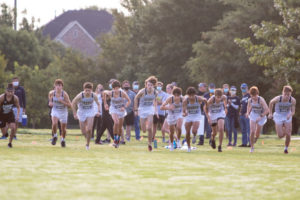 Stay tuned to the Roundup for more news about cross country!