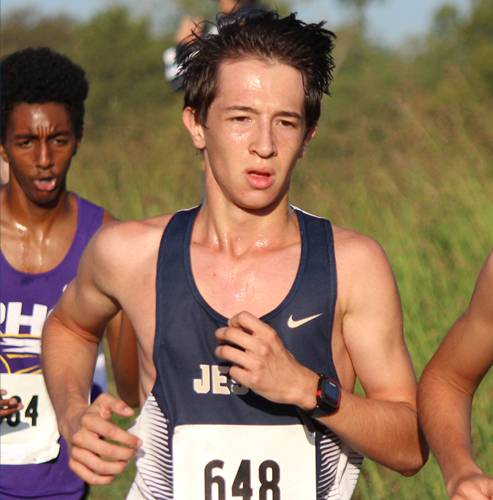 Trotting on the soft mud, the runner strives to reach his competition ahead. His shoes struggle for grip on the moist grass, but he lengthens his stride and forges ahead. Nearly at the finish line, he starts a hectic sprint towards the finish line, attempting to catch the first-place runner. Gasping for air, he moves faster and faster until finally, he crosses the line in first place.
On October 23rd, the Jesuit Varsity Cross Country team raced at the UIL Regional Championships at Lynn Creek Park in Grand Prairie. A team captain, Jacob Bartkoski '19, who finished in 136th place with a time of 18:51.24, had a few thoughts on how the team did. Overall, he "ran a decent time…[which] wasn't [his] best but [he] was still happy with how," he did. He felt that "the team did well overall," and that "our top two runners ran some of their best times and everyone else was very close together." In reference to how the teem needs to improve moving into the track season, Jacob said that the team "can all work to improve our times going into the track season."
Henry Domine '20 finished with in a solid 70th place, leading the team. He finished with a 17:15.17 for his time. Henry felt that for his race personally, "[he] went out way to fast…and couldn't hold on." While a little disappointed with his performance, Henry feels that "we can come back next year a better team with much more experience," and achieve much better results. Overall, Henry wants to improve on "running from behind" and "not always being a front runner," moving into track season and just for cross country experience in general.
Coach Doug Robinson had "mixed feelings about the team's performance at regionals," as he personally "wanted the guys to continue to build upon their District performances or season bests." His "coaching sense [led him to believe] experience would be important in a big race like this…and as it played out lack of experience was a key to not performing up to expectation." He was very optimistic for the following season, as all but one of the runners are returning for next year and to summarize this season, he is "proud of the entire team's efforts… as they all gave it their best in that race; and as a coach, that's all I can ask for." Moving onto the upcoming track season, Coach Robinson wants the runners to "stay the course…and build on what we developed in Cross…[leading to] big gains," during the season.
With this race, the Jesuit Cross Country season has now come to an end, and now they will continue running in the upcoming track season. Stay tuned to The Roundup for more Cross Country and Track and Field news!