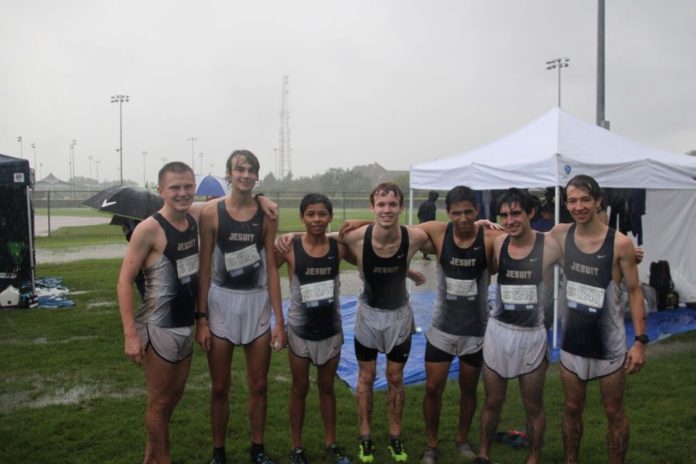 "Our running shoes have magic in them. The power to transform a bad day into a good day; frustration into speed; self-doubt into confidence; chocolate cake into muscle." (Mina Samuels)
The Jesuit Cross Country team competed in the annual Greenhill Luke's Locker Relays on August 25th at Norbuck Park. They also ran in the Southlake Carroll Invitational on September 8th at Bob Jones Park in Southlake, and the Ken Garland Invitational on September 15th at Discovery Park in Denton.
Greenhill Relays
In these relays, two teams compete for varsity and another two compete in the junior varsity races for each school. Each team consists of four runners for the four 1.5 mile laps of the relay, including different obstacles like hay bales and hills. Jesuit's first varsity team came in eighth place with a total time of 31:32.
One of the sophomore runners on the varsity team, Henry Domine '21, reflected on his and the other schools' performances in the relays. He commented on how it "was a great success with great improvement from every team."
Coach Doug Robinson, the cross country team's head coach, discussed his take on the runners' performance as a whole, noting how he was "excited to see the gains in performance…From the 3200 we ran at Thursday Night Lights a month earlier, every runner improved. There were several PR's as well as [two] athletes who had over [one] minute improvements."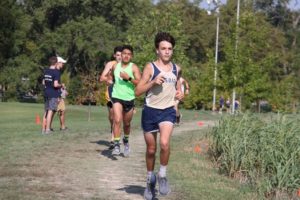 Enrique Borrego '22 mentioned what it was like to run on the varsity team as a freshman, saying how it is "a huge privilege for me. I really like the competition and new challenges that are brought onto me each week, whether it's the cross country meets or difficult practices."
Jacob Bartkoski '19, one of the team captains, explained how his outlook on the season as a senior this year compared to past years. He noticed how he "focused more on encouraging others this season during workout and races, whereas the last few seasons I was more concerned with encouraging myself to get through the workouts." He went on to comment on his performance overall this year, saying that it is "close to where it was last year. Most of my times have been similar to the ones I ran last season."
Southlake Invitational
Unfortunately, the harsh weather conditions of pouring rain during the morning of the meet prevented all but the top varsity teams in each school from racing. Jesuit came in 24th place, with Kyle Kassen '21 finishing 72nd with a time of 18:21.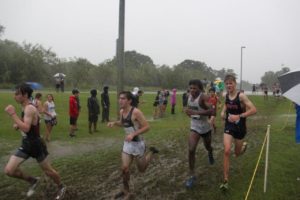 Domine talked about the challenging meet and the harsh conditions of the weather, acknowledging how it was "a very tough race and I felt that I did the best I could."
Ken Garland Invitational
In Ken Garland race, Jesuit finished 4th place, with three of the team's runners all finishing in the top 20 of the varsity race.
Domine, who finished eighth place with a time of 16:32, discussed how the successful race "gave us an opportunity to stretch our legs and run hard."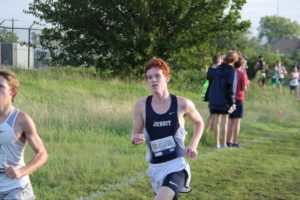 Coach Robinson explained the ways that the cross country team improved at Ken Garland. He mentioned how it was "a good test for our teams. Our varsity faced one of the top district rivals, McKinney Boyd, and narrowed the gap between our teams, [which is 12 points]. [It was] our best varsity team performance thus far. Several PR's occurred in that race. Our JV ran well as our younger guys gain more experience and confidence."
Briggs Uskovich '22 noted his performance and fitness since the beginning of the summer when the cross country team began team practices. "I feel that since I have been running with the team starting in June, my performance was very good…I feel really good and healthy."
He also mentioned how the team has bonded over the course of the season, with the races and practices each runner has endured.
"I feel that the team has bonded like gorilla glue. I was so shy at the beginning, and now I can just pick up a conversation with anybody on the team. I feel welcomed every time I see a team member's face."
Borrego expressed his feelings about his performance over the past races this Cross Country season. "I feel like I did really good at [the] meets even though the conditions were not in our favor. I was also able to gain a lot of experience and knowledge from running through those obstacles," he remarked.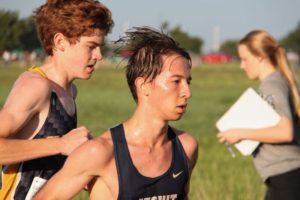 During the summer, the team practiced on the school track and afterward would go to a local restaurant and eat breakfast together. Bartkoski noticed how the Jesuit runners were able to bond by "going to eat after a lot of our workouts. In the past, we rarely went to get breakfast after long runs or other workouts, but this season we went most weeks, which allowed many of the team members to get to know each other better."
Coach Robinson acknowledged how the team this year is different than past teams because the runners have "team camaraderie. As one of our captains pointed out to me, 'we're all good friends, and we enjoy being around each other.' I feel that every guy on this team genuinely cares about all his teammates."
"When you have that brotherhood, then that creates team unity, a feeling that you're a part of something bigger than yourself. That serves us well when we compete."
Stay tuned to The Roundup for more cross country updates!