On March 17, Jesuit Crew loaded onto a bus around 5:30 in the morning, heading for Oklahoma City. After months of training and preparation, the Spring racing season had begun. It had been several months since Jesuit had raced down the course of Oklahoma during the Head of the Oklahoma in October.
Rangers Go Big in OKC
Jesuit began the day with the Varsity 8 race followed immediately by the Second Varsity race. Both boats received bronze in their respective races along with the Third Varsity boat performing well against the other 3v boats in the Second Varsity Race.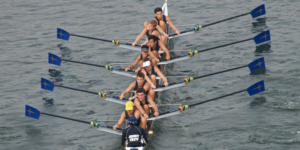 Afterwards they had only a few moments before launching the Varsity A4, the Varsity B4, and the Second Varsity 4. Each 4 won gold in their events by an impressive margin. The lightweight 8 made its return to head racing after an absence the previous year, taking home silver in its first two thousand meter race in close to two years.
During this regatta, the freshman got their first glimpse at Spring racing. The frosh 8 took gold in their first spring race and the 1st Freshman 4 took silver. Overall, very impressive for first timers.
In the end, Jesuit Crew got to test the results of winter and spring break conditioning and were happy with the outcome.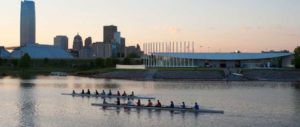 Captain Sean Tehan said, "It was fun to finally go out and test our speed against other boats for the first time this season. We learned what we need to focus on and tune up for a big upcoming races."
Training continues for the rowers as they work to improve their speed and strength further. They depart for Philadelphia on April 20 to race in the St. Andrew's invitational and Manny Flicks Regatta.