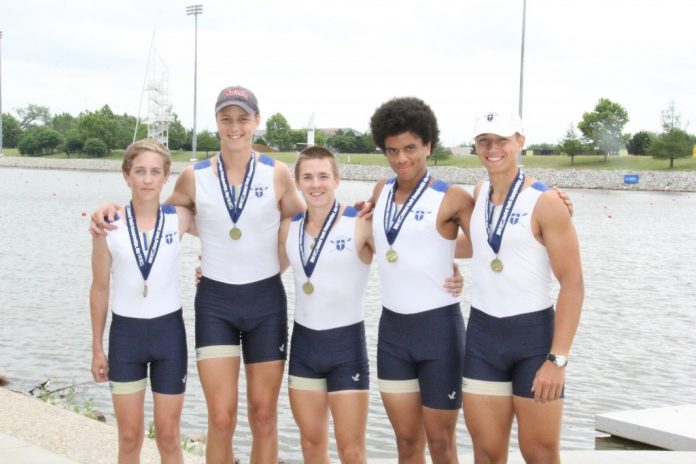 A small bead of sweat rolls down the arm of the rower as he pushes and pulls in perfect harmony with his teammates. Physical exhaustion plagues each rower as the end of the race nears, challenging each of them to continue going all out until the finish. The Rangers' boat soars past the finish line, and as usual, is one of the first boats to do so.
On May 7th and 8th the Jesuit crew team traveled to the Oklahoma River to compete in their first post-season regatta, the USRowing Central Youth Championships. Although the "results weren't exactly what we wanted," according to coxswain Henry Droese '17, the Varsity 4 boat still finished first place with a time of 6:47.117. The boat consisted of almost all seniors, including Joey Merkel, Jay Hofmeister, James French, and junior Christian Le Doux.
The Varsity 8, though dominant throughout their whole season, succumbed to Dallas United Crew with a final time of 6:17.466 to earn second place. In addition, the Lightweight 8 suffered their first lost of the season, finishing with a time of 6:37.343 for third place.
Droese commented that the regatta served as a "wake up call going into the last regatta of the season," that they "need to be faster," to have a chance at the Stotesbury Cup. Captain Joey Merkel '16 agreed, saying they "need to improve as a whole for Stotesbury;" however, he still left Oklahoma with "a lot of confidence leading into Stotesbury," and expects "to conclude season with the Stotesbury Cup and a slot at Henley."
And improve they did. The Rangers' Varsity 8 then traveled to the Schuylkill River in Philadelphia to complete for the Stotesbury Cup, the regional championship, on May 20th. The team earned second overall with a time of 4:26.36, just behind Gonzaga. Their success not only allows them to advance to the national championships on June 9th, but also earns them an invitation to the Henley Royal Regatta, held in England, on June 29th.
"This weekend was a huge milestone in our program," commented Merkel. "We know we have something special this year, and finishing the way we did means that we will have a lot of momentum going into next year. Every year, we are getting better and better, and the legacy we left this weekend will remind us in the future of the great commitment it takes to achieve our goals."
Good Luck to the crew team with the rest of their post season and stay tuned to The Roundup for coverage!