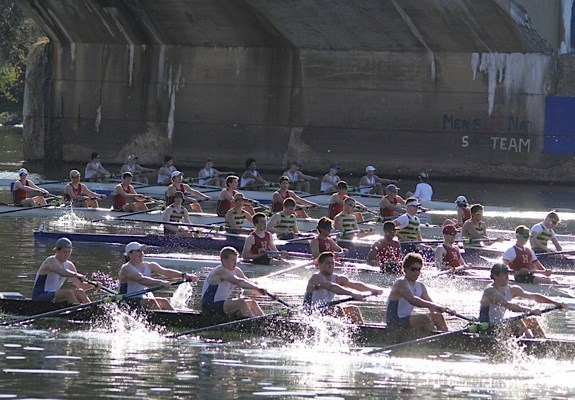 Before the race, a hundred boats sit, scattered, in preparation for their own races. When it's called, the coxswains frantically search for their spot in line to enter the racing tunnel. Silence rules the boat for the precious few seconds preceding the torture ahead. Finally, the boat crosses the start buoy and that silence gives way to coxswains yelling and the sound of rowers grunting.
Such was the opening scene of the races on April 16th and 17th, when the Jesuit crew team participated in two regattas. One element of the Jesuit crew team's races, less familiar to other teams, is the constant shouts of the coxswain telling the boats in front to move out of the way.
At the first regatta, the Noxontown Regatta, Jesuit's speed was shown on the scoreboards. The varsity 8 finished in 1st place, beating Philadelphia's St. Joseph's Preparatory by half of a second. The top freshman boat fell four seconds behind St. Joseph's. Second varsity finished at fourth place. During the Manny Flick regatta, just a day later, the varsity 8 not only won the first race in Jesuit Dallas' history on Schuylkill River, but also widened their margin on St. Joseph's Prep by 500 percent.
The Tulsa invitational, just a week after Noxontown and Manny Flick, marked another series of wins for Jesuit. The varsity 8 and 4 both got first place, along with the Lightweight 8 and 4. Jesuit's novice boat won second place, behind OKC. The margins of the wins were wide, and the losses were narrow. The crew team hopes to continue their winning streak to the next regatta, where they will attempt to qualify for the national championship in June.
In an interview with varsity coxswain James French '18, he named the crew team's greatest rival as "Gonzaga." Gonzaga did not appear at either of the two regattas, but will be at the Stotesbury Cup, the largest rowing competition in the country. French could not single out any one person on the team that has lead them to success, saying that "everyone in the boat [contributes]." The team hopes to keep up the intensity for Stotesbury, where they will inevitably face Gonzaga.
The team's continued success led Jeremy McClure '19 to state that he feels "very optimistic about [their] chances at Stotesbury."
The team will compete in the US Rowing Central Youth Championships this weekend, May 7th, and hopefully the team can set a positive course going into the national championship.