On April 20, 6:30am, the Jesuit Dallas Crew team flew from DFW to Philadelphia, Pennsylvania to compete in the annual St. Andrew's invitational in Noxontown, Delaware and the 5th Manny Flick in Philadelphia on the Schuylkill River.
St. Andrew's
The St. Andrew's invitational has been held every year for several decades. For the past several years, Jesuit has always made an appearance, facing off against some of the best scholastic teams in the northeast, many of whom Jesuit will race again in the Stotesbury Cup.
Races were held on the St. Andrew's School's privately owned pond from early Saturday morning until the late afternoon. Jesuit performed decently, most notably with the first freshman boat placing third in their event.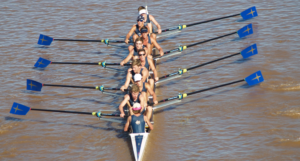 Prior to the racing, poor weather conditions had forced the Crew team off of the water and into the erg room, giving them less practice time in the boats.
Coach Dam said, "Friday racing at St. Andrew's for the team was slightly off pace. We were coming off of a two week period where we only had the opportunity to train a few times on the water before arriving in Delaware.
He continued:
"The weather has been a big challenge this season and it really showed in our racing. Thankfully, we were able to make some adjustments and were better prepared on Sunday when we traveled to Philadelphia. We closed the delta on other crews from Saturday's racing by a good margin and all of our crews were much more satisfied coming off the water."
Manny Flick
And close the margin they did, after being hosted by the generous families and former Jesuit crew coach, John Fife, at fellow Jesuit School, St. Joseph's Prep in Philadelphia, the team achieved much higher placement at the 5th Manny Flick that Sunday.
Both the first and second varsity 8 boats placed third in their events, the first freshman boat placed fourth in their first time trial race, and a commendable performance by the second varsity 4, ending the weekend on a high note.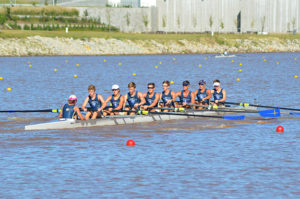 Team captain Sean Tehan summarized the weekend:
"It was great to be able to test our speed against some of our competitors for the upcoming Stotesbury Cup. We were able to tune up some of our racing between the days and get some more speed over the weekend. We also got some insight on what we need to focus on to perform well in our championship regattas occurring in the coming weeks."
Now, the Crew team trains to race in the upcoming championship races of the Spring racing season.