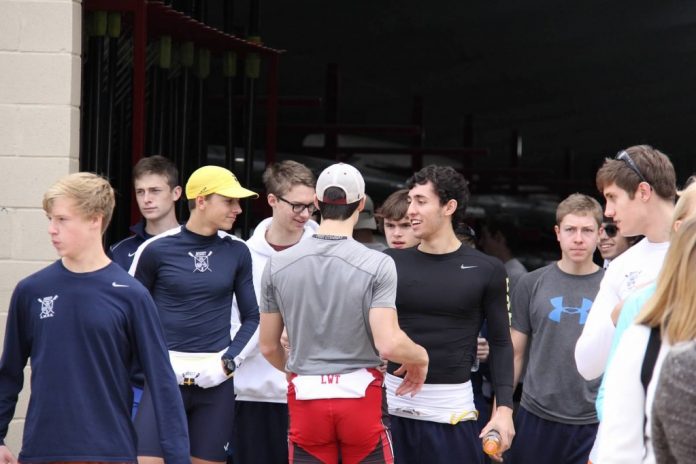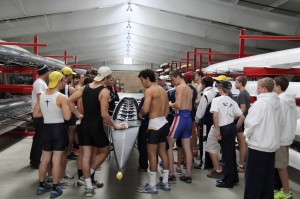 Although most of the Jesuit community is struggling through Midterms and anticipating the long Christmas break filled with rest, holiday spirit, and joyous memories, let us take a step back to Thanksgiving, a holiday that brings to mind cooler weather, roasted turkey and pumpkin pie, but most of all spending time with family.
Similar to this feeling of warm and homely feeling, the crew team family experienced camaraderie and a sense of a close community during their Thanksgiving Alumni Row.
     On Saturday, November 30th, a few days after Thanksgiving, the crew team held
their third annual Thanksgiving Row at White Rock Lake in Dallas.
Started by Head Coach John Fife back in 2011, the team invites former alumni crew members to come home to Dallas to race against members of the current crew team. In this race, the Alumni decide on their best rowing line up and compete just as ferociously and tenaciously as when they were rowers at Jesuit.
In making boat line ups to race and compete against current Jesuit rowers, the alumni rejoined their Jesuit family, revitalizing their sense of brotherhood and enjoying their love of rowing on the water. In addition, those that only recently graduated from Jesuit especially enjoyed racing against their old teammates.
The other day when I had a chance to talk with senior crew team member Jorge Perez about the race, he said that it "is a unique event because it is more of a fun kind of friendly racing environment away from the stressful races during the season." Still, the current crew team still wants to win the race, and they compete just as hard as the alumni.  
     While the Alumni Thanksgiving Row sounds only like a race, the event involved more than just boats gliding across a lake. Like families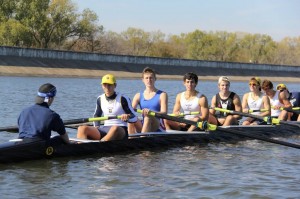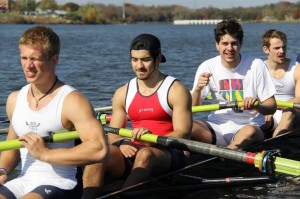 during Thanksgiving, the crew family came together to enjoy barbecue and other foods. Kids, parents, alumni, and students alike all joined together in unison for a hearty Texas Style barbecue meal.
If you were wondering about the people who do not like barbecue, do not worry because other food was offered as well. When talking to Perez, I also asked him about the overall atmosphere of the event and if everyone seemed to enjoy it. In response, he said that " I think everyone who participated including rowers, alums, parents, coaches, and family members had a lot of fun." In light of this much widespread fun, competitiveness, and sentiment, the annual Thanksgiving Row seems as if it has been a great success and will probably continue to be held for years to come, years that will include nervous anticipation for coming together of an entire crew family.