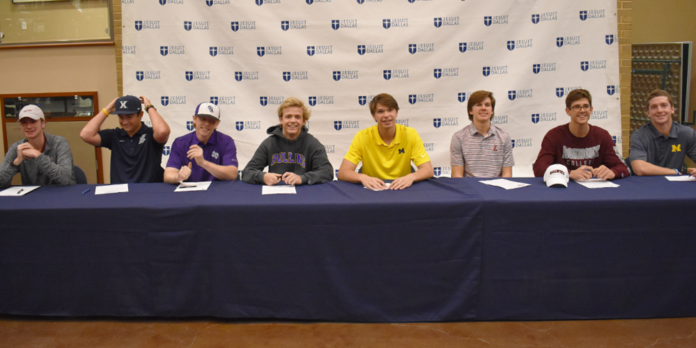 Walking into Hughes Hall, you see a great white banner at the center with the Jesuit Dallas logo. Behind a table with 8 chairs, 8 Jesuit athletes, and 8 bright futures.
On Wednesday, November 14th, eight Senior student athletes officially declared that they are going to continue their athletic careers in college.
Baseball Signees
Three of the eight signees are baseball players: Quinn Bowring, Ben Shepherd, and Jack Lynch.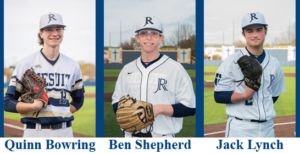 Bowring committed to Transylvania University, Shepherd committed to Stephen F. Austin University, and Lynch committed to Xavier University,
The baseball coach, Coach Jones, commented that it is "always an honor to have not one, but multiple baseball players looking forward to furthering their careers. We have had a long line of successful players, and these 3 fall into that category."
Lacrosse Signees
The other five signees are Peter Buell, Jacob Jackson, Matthew Priddy, Andrew Patton, and William Moran. They will all continue to play lacrosse at the collegiate level.

Buell committed to Rollins College, Jackson and Priddy both committed to Michigan, Patton committed to Roanoke College, and Moran committed to Lafayette College.
Moran stated that "it was very rewarding and fulfilling to find a great school and a great program to follow my dream to play college lacrosse."
Priddy, who will join his brother and former alumnus, John Michael Priddy '16, is also very excited.
"Signing day was a very surreal experience. Ever since I started playing sports, I had always dreamed about signing day and having the opportunity to experience it first-hand." Priddy continued, "To me, sitting in the bottom of Hughes Hall on Wednesday was a moment where I realized that all my hard work and time I put in payed off. I was so ecstatic to sign with a great lacrosse program and even better school in the University of Michigan. The opportunity to play D1 lacrosse and receive a prestigious education is one that I would never pass up."
Priddy concluded that "On top of getting a great education, I look forward to living in the same city and playing on the same team as my brother. It was a childhood dream for the both of us to play a sport in college, so this opportunity is one that we will cherish the rest of our lives."
The lacrosse coach, Coach Surran, is very happy for the signees. " I am very proud of our five athletes who have committed to these wonderful institutions. They all of very bright futures."
Faculty Thoughts
Other members of the Jesuit community are also very happy to see all of these athletes continue their athletic careers.
President Earsing said that he is "very excited for these eight guys to be realizing their dreams. I know they will represent Jesuit well as they continue to excel in all areas of their lives."
"Watching these young men accomplishing their goals is very rewarding. Working closely with these guys since they were freshmen, it is incredible to see their growth and results of hard work," commented Dr. Knize.
At the end of the day it is very clear that the future is very bright for each of these athletes.
The Roundup wishes all these athletes continued success in their collegiate careers!