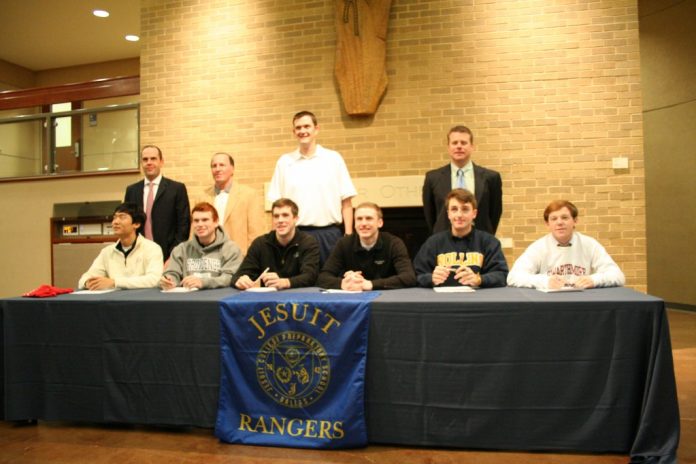 Upon entering Jesuit College Preparatory, seeing the Hall of Honors walls adorned with composites from the inaugural class of 1943 to the most recent class of 2011, listening to academic banter from the clusters of blazer-and-oxford clad students, feeling the intensity of one of the most competitive academic environments in all of Texas, one's first impression is not of athletics.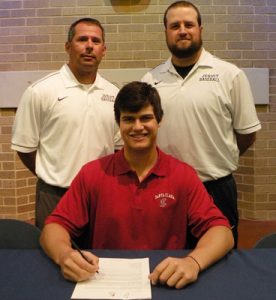 Most would assume that any scholarship earned by a Jesuit student would be an academic one or one based off service hours. While there are plenty of scholarships received for these reasons, they aren't the only ones given to Jesuit seniors. Nine members of Dallas Jesuit's 2012 graduating class earned athletic scholarships to play collegiate sports next year and several of them had reflections on the high school careers.
While these athletes will be parting ways with Jesuit's physical location, what they've learned over their four years here will stay with them, not only on the field, court or diamond, but for the rest of their lives.
Christian Bartholomew '12, a pitcher headed to Wake Forest next season, reminisces about what he's learned as a Jesuit Ranger: "It's more than just a game," he explains, deep in thought. "It's the experience.  It's the relationships that you create in sports that contribute to your overall development."
Cornell-bound Andy Kim '12, headed to Ithaca, New York, on a crew (rowing) scholarship, found himself especially appreciative of what Jesuit has taught him. "The lessons I've learned from the past few years of rowing have not been from the sport by itself, but the Jesuit identity that's tagged along with it… It's the culture; it's the Magis… It's about going above and beyond what we are called to do."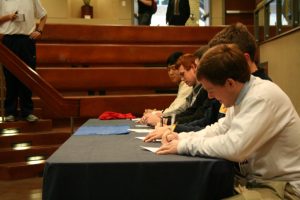 Striving for the Magis even in his interview, Kim recalls the Profile of the Graduate at Graduation. "[It] summarizes the lessons I've learned. Physical Fitness, Intellectual Competence, and Religion form the blue print to a truly balanced and fulfilling lifestyle. Body, mind, and soul. Openness to Growth, Loving, and Committed to Justice emphasize the bonds we have with each other and with society. No bonds of teamwork and brotherhood are stronger than those forged in blood, sweat, and tears."
And clearly, what Kim says isn't merely lip service. As he puts in his own words, "[Crew at Jesuit] was just enough to convince me to do four more years of it."
In the realm of soccer, Andy Dalton '12 has committed to play at Providence this coming school year. He looks forward to playing at the collegiate level saying that "more than anything, [he] want[s] to continue to play the game that [he] love[s] at a high level. Playing at Providence is going to be difficult because they play in the very challenging Big East Conference with well known schools such as Notre Dame, Georgetown, and Syracuse. So I always know that every game will be a highly competitive one." He continued to say that he chose Providence "because it best fit everything I was looking for in a school. It offered many similar qualities of Jesuit, such as its small size, Catholic community, and high academic and athletic standards. It reminded me a lot of Jesuit and I wanted to experience another four years in an environment similar to Jesuit's."
The Jesuit Basketball team also had one of its best players, David Lacy '12, commit to play at Trinity. Lacy, a multi-year varsity starter, was plagued by injuries his senior year, but impressed scouts at Trinity so much that he was still offered a scholarship. Lacey says he is "nervous but at the same time excited about playing [at the collegiate level] because [he] hasn't played since December and [he's] going to literally jump right into it as soon as [he] gets back. "   Lacey concluded my interview with him by saying, "Thanks to everyone in BASKETS and thanks to the coaches for believing in me and having me all four years."
Finally, Lacrosse tied for the biggest turnout this year with two players committing to play at the collegiate level. Alex Petsos '12 has committed to play at Rollins College in Florida and Mac Maguire has committed to play at Swarthmore in Pennsylvania. Petsos is excited to play at Rollins, especially with the chance to get some playing time his freshman year. He said, "I'm hopeful. I've been knocking on wood. [Rollins] has a senior that is in my position right now and I'll be looking to try my hardest to get that spot, but it's a long way off and it's a lot of hard work."
Maguire shared a similar interest saying, "I'm nervous, but I'm not too nervous. It's D-3 so there should be some good competition. It's gonna be fun."
Including the previously mentioned seniors, the following athletes all signed National Letters of Intent to play sports at their respective schools. Soccer: Owen Kalis, Memphis. Lacrosse: Matt Miller, Providence. Track and Field: John Kaplan, Marquette.