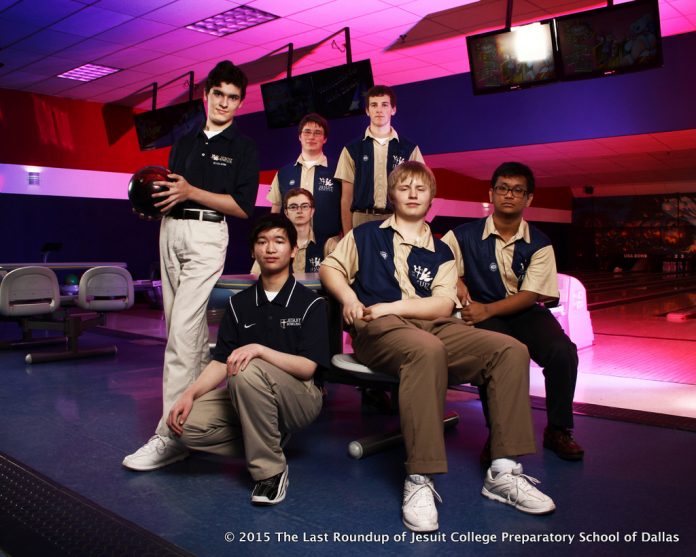 With not a moment left to 'spare' before the start of the 2016-2017 bowling season, Mr. Ken Howell stepped up to take the position as head bowling coach. Since the past head coach Mrs. Mattachione moved to Regis Jesuit, there was an opening for the position, which Mr. Howell eagerly jumped at. According to Mr. Howell, it's been about 5 years since he last coached, so he's ready to get back in the game, literally.
"I'm really excited to get back to coaching," said Mr. Howell. "I really enjoy getting out and doing something different with the guys outside of the school environment that shows their enthusiasm in something other than school."
Mr. Howell helped coach lacrosse here at Jesuit for a great many years before he converted solely to teaching. He's thoroughly enjoyed his past coaching career and he takes his new one as serious as before. He started to bowl "for real" about 4 years ago, and that was when he realized that he liked it and that it was something he wanted to pursue.
"I just enjoy bowling. It's one of my pastimes I like to do." says Howell, who also made it clear that he was by no standards a professional and that it's just a lighthearted hobby: "It's not something that I did competitively or anything – It's just my love of bowling that inspired me to do this."
For roughly the past 6 years, the state championship has been in Fort Worth about every other year, and with that comes another state championship at the end of the 2016-17 season in Fort Worth. There's a lot of pressure for Jesuit to attend due to the fact that the team has attended it every other year while it was in Fort Worth. Mr. Howell noted that the team has "a real push to go there this year."
Now as for the team, he thinks they have a solid chance at making it. Mr. Howell mentioned that "I think we've got a pretty good core of guys." So hopefully this season starts with a bang and ends with one as well. He noted that most of the guys are really talented and athletic as well. As for those who are not talented nor athletic, they will become new people by the end of the season and hopefully grow in the areas they were lacking before. 
The season officially begins in November with their first competition and runs through March. There are about 2 competitions a month.
Coaching at Jesuit is a big deal, and to many students it means a great deal. So to be one of these mentors, life coaches, or role models, it provides many students with a healthy relationship in which they can confide in and talk to this figure. As Mr. Howell steps up to the lane, we should congratulate him on his achievement, because it means just as much to him as it does the students on the team. Thanks to all the coaches at Jesuit who make a difference in so many of the lives of Jesuit students.
Be sure to stay tuned for more bowling coverage here or on jesuitrangers.org where you can also view the schedule.