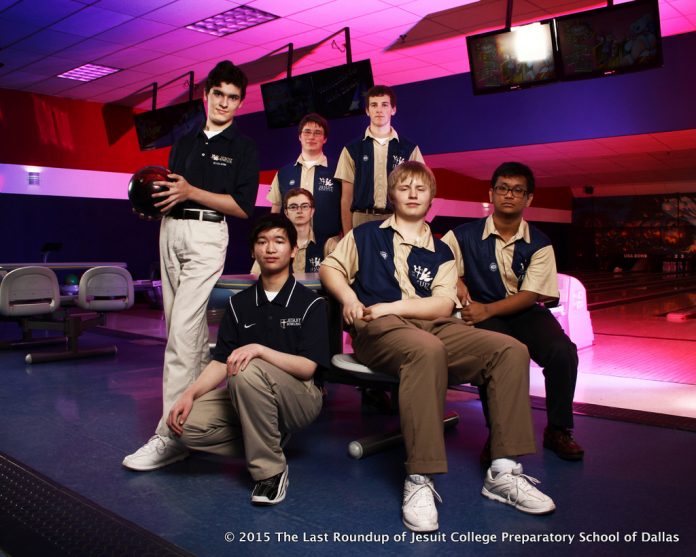 As the bowling season progresses, Jesuit's impressive team proves itself as a force to be reckoned with, as they hold a 5-2 standing.
On January 28th, the Jesuit Bowling team dominated Winston during an all-day match in Euless. Jesuit finished the day with 15 wins and 0 losses, giving them a perfect record for the day, not letting Winston's rather impressive team come in the way of their chances of qualifying for the regional tournament.
When asked about the performance of the new bowlers, senior member, Chad Uy '17, stated that they "have a lot of potential" and "are really consistent with their scores," giving him hope for the team's future as finishes up his final year as a player.
Jesuit Bowling's main competitor for this seasons proves to be Irving Nimitz. Mr. Howell, the first year head coach for Ranger bowling, said "we've bowled really well against them. It's always a close match with them."
Jesuit did lose to Nimitz on January 30th by a close margin of only one loss. The final score between the two was 7-8, but this loss did not discourage the team as they went on the win against Grapevine by a huge margin, ending with a score of 13-2.
Jesuit's overall record is 5-2, making the team a major competitor in the upcoming tournament and they ready themselves to compete in the regional tournament being held during the first weekend in March. Howell has high hopes for the team and their constant progression saying, "the other coaches are always commenting on how much progress we make."
Uy '17 also has high hopes for the tournament saying he likes to "experience the fun type of competition" that comes along with bowling as well as "keeping it heated."
Be sure to keep up with all Ranger Bowling news right here on The Roundup!