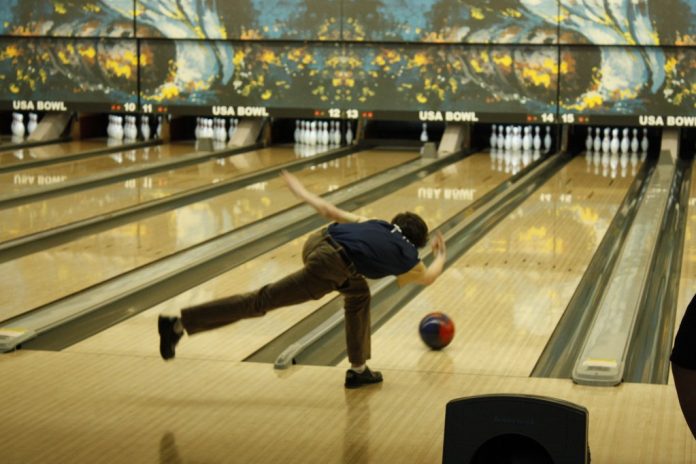 Jesuit bowlers were on a roll as they placed high enough in the regional competition to go onto state for the first time ever. During state, the bowling team placed 23rd out of the 36 teams that competed and the Rangers finished the season ranked 23rd out of all 173 high schools in Texas-  an outstanding accomplishment for only their second year in existence.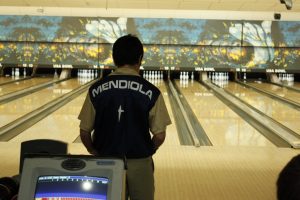 The bowling team narrowly failed to make it to the top-16 round by less than 100 points, even with four individuals on the five man team scoring over 200 during the third round.  Jonathan Mendiola '14 led the way with a team high 267 points, followed by Nathan Leiter (246), David Portner '13 (237), Austin Teel '12 (205), and Jason Wolf '13 (181).
The Rangers bowled a combined individual average of 188 per game, which anyone who has ever bowled knows is an extremely difficult score to achieve.  "I couldn't be more proud of our boys," said head bowling coach Kelli Mattacchione in an email. "We really brought our A game."
For the second consecutive year, the Jesuit bowlers won district, and performing even better this year, they received the fourth place ranking in the region.  "We just came out focused and looking to win," said varsity bowler Alex Gulis '14, "and I think we did better than people expected."
Austin Teel, senior Jesuit bowler, said: "It was fun, and there were tons of people from all over Texas and so many fans.  It made it kind of intimidating," although the team did anything but shy away from the spotlight.
Some bowlers were happy with the standing, but others like sophomore bowler Nathan Leiter were not yet satisfied. "We came so close this year," he noted, "but we're definitely getting excited for next year."  When asked about his expectations for the upcoming season, Nathan stated, "We need to break top 16 in state," an ambitious goal for a two-year-old program, but nonetheless one that is fairly reasonable.
Yet, despite their impressive performance, the competition was also quite talented, and Austin Teel conceded that "the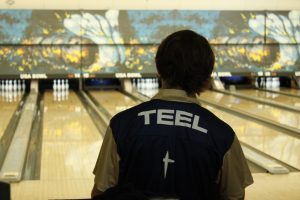 Amarillo team was especially good and clearly the best by far, having two guys throw over 700 points in the three rounds." However, Jesuit has clearly made strides toward reaching such a high level, and Jonathan Mendiola, a sophomore bowler, even broke the 600 point mark with a three round total of 631.
Optimistic about Mendiola's future, Mrs. Mattacchione believes that "as one of the very few sophomores, he will be one to watch in the coming years." With a 28th place finish in the individual rankings, Mendiola also qualified for state individuals.
Declaring it one of the "best experiences [he] has ever had," Teel projects a positive future for Jesuit bowling. Although he will be off to college at Texas A&M next year, where he hopes to be a part of their bowling program, Teel believes that Jesuit bowling will only continue to grow, "recruit good players" and "build on where we got this year."
With such successful young bowlers, the program is definitely one to watch over the next few years, and hopefully the young team will continue its winning ways into next year's season.
For more information on Jesuit bowling and how to join the team, email Mrs. Mattacchione at Kmattacchione@jesuitcp.org.