9-0. Regional Champs. State Qualifiers. The Jesuit bowling team proved themselves a force to be reckoned with last season. But with the loss of a few members, the doubters started to appear. They said the team couldn't keep winning. They said the team was washed. While these harsh critics said a lot of unfavorable things, they were ultimately wrong.
Varsity
With the first single matches of the year, Jesuit started out strong, winning three of the first five matches. Will Risinger '20 and Matthew Vincent '20 began the day for Jesuit, beating their opponents 291-241 with their combined two-game scores. Hayden Montpas '22 beat his opponent with a team high 356-312 victory, while Jack Corrales '20 won handily, 345-149. Jesuit captured the aggregate pin total and moved into bakers with a 5-2 lead.
Bakers are team games in which five bowlers each bowl two frames, to post a combined score. The baker games make up 8 of the 15 points in a match, so it is always possible for a team to make a comeback in bakers no matter its deficit in the single matches.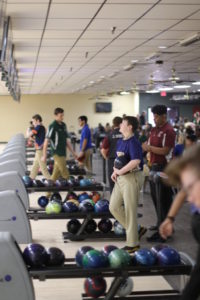 In a highly contested first match that came down to the wire, Jesuit tied with Marcus in the first baker game with a score of 170. Fighting back in the second game, Jesuit easily captured it with a 142-109 victory that sealed the match. With a 133-128 victory in game 3, Jesuit swept bakers to finish the match with a score of 12-3.
After the match, Silas Hartman '20 said, "I am impressed with how well the team played, considering our limited amount of practice and the fact that our bowling alley was closed for a little bit. Even though we didn't have a lot of practice time, we worked really well together and even though everyone had their own kind of slumps or bad spots, we were all able to bounce back, and we had a really good energy going into the baker games which allowed us to pull out the win, so I would say it was an overall great day."
JV
Will Mina '22 led the JV Rangers with a 134 and 244 cumulative score, as he won his match 244-143. Victor Martinez '22 was close behind with a 242 cumulative, as he narrowly lost his match 242-265. Nick Evanich '22 rounded out this sophomore trio with a 164 over two games, as the JV won 2 out of the first 7 points.
Needing to perform in bakers, the Rangers won the first and second games, 101-76 and 95-74. They lost the third game 83-87, but managed to snag the cumulative total and win the match 8-7.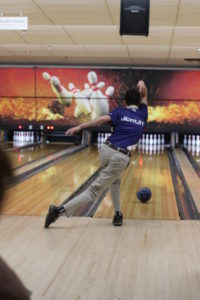 The remaining JV bowlers bowled against an LD Bell team that was too afraid to show up, so they won handily after bowling their games 13-0. Michael Kaufman '20 led them with a 272 over two games, including a hefty 146 game 2. Ethan Blum '20 wasn't far behind with a 210 over two games, while Michael Norris '21 rounded things out with a 189 cumulative score.
Reflections
Will Risinger '20 said, "It was a thrilling match with a great team performance that tickled me quite fancy."
Strong words.
The Rangers move on to face Lewisville next in what is likely to be a highly contested divisional showdown.
Check back to The Roundup for more bowling and other sports news!