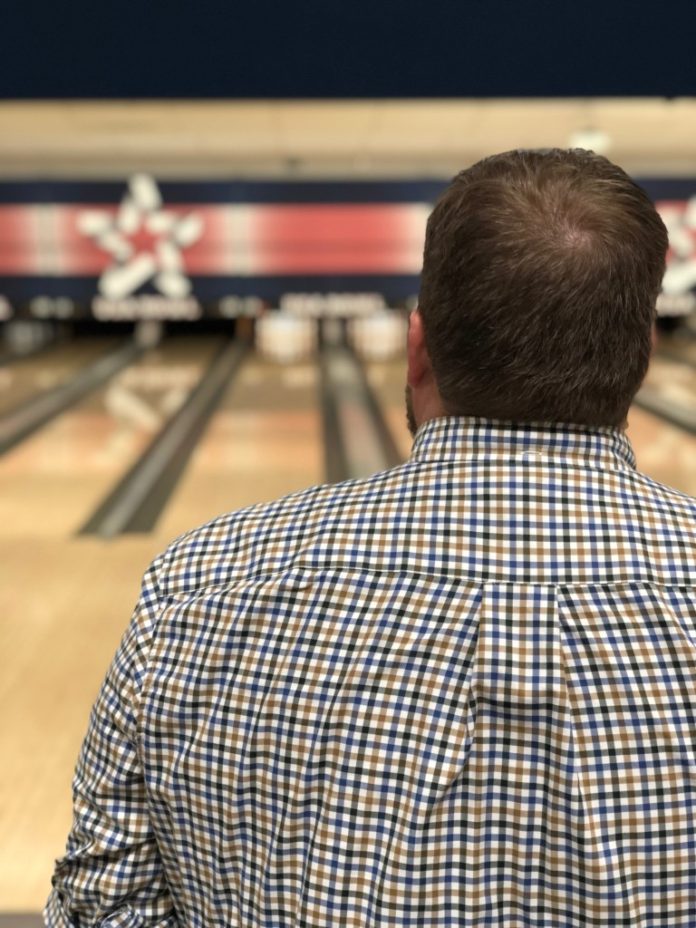 "You learn more from a bad shot than you ever will from a good shot." – Tom Daugherty
Jesuit's performance on Tuesday, November 6th, exemplified this quote as nearly all of Jesuit's bowlers, while having decent first games, found their mark in the second game and destroyed their opponents and their previous scores.
Individuals
Jesuit started off with scores of 144, 178, 201, 185, and 191 by Parker Liening '19, Matthew Vincent '20, Hayden Montpas '22, Austin Montpas '19, and Jack Corrales '20, respectively. Corrales, both of the Montpas', and Vincent led their matches, but their opponents were close behind, with all of them within 30 pins.
However, after a rousing huddle after the first match, the varsity bowlers all came back with a vengeance, aiming to surpass their first game. Bryce Clark '19 came in for Liening and bowled a solid 132, leading to an unlucky 276-325 loss, while Matthew Vincent bowled a 191, beating his first game by 13 pins and winning his match 369-329.
Hayden Montpas bowled a strong 211 in his second game, beating his first game by 10 pins and winning his match 412-352. Austin Montpas found his groove and improved his mark in the second game, bowling an astounding 235 and winning his match 420-340. Then, Jack Corrales cleaned up his match with a 218 pin second game leading to an emphatic 409-296 victory. Austin, Hayden, and Jack all averaged over 200 pins for their individual games and helped to lead the team to a 6-1 lead heading into the baker games.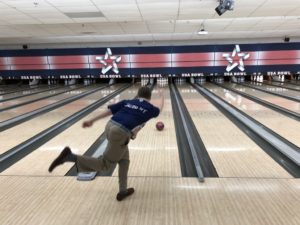 Bakers
Baker matches are the team part of the match, as they involve all five bowlers each bowling two frames in the 10 frame game. The baker matches amount for 8 total points, so by sweeping the baker matches, no individual matches need to be won in order to win the match.
In the first baker game, the Rangers lost 173-204, due to a few missed spares and some unlucky breaks. However, the Rangers made sure to secure the win as they came out striking in the second match and won 197-143, guaranteeing the win as they scored their 8th point. The Rangers then proceeded to lose their third baker game 105-159, despite the presence of Will Bradford '19 at the anchor position. Jesuit ended up losing the pin differential and thus won the match 8-7 in a narrow victory against an experienced Marcus team.
Coach Howell
After the match, head coach Ken Howell said how "The team had one of the most focused games in the last two years."
However, he stated, "We still need to work to raise our baker scores to compete for the top spot in the District."
After seeing some of the high JV scores, Coach Howell remarked how "Having the depth of bowlers allows me to be able to sub in for a bowler that may be struggling and have the confidence that the scores will not be compromised."
Parker Liening
Parker Liening '19, one of the starting five for Jesuit, said: "The team came in confident and pulled through when it mattered the most, as the individual games were exciting and our solid team play allowed us to get the job done."
Liening, while having a solid performance in his individual match, really came alive in the baker games with several pivotal strikes, as he credited "The team spirit and fire that we had during the bakers that allowed me to clutch it up."
JV
The JV team also played well on Tuesday, winning their match against a tough Marcus team 9-6. Will Risinger '20 had a 133 in his season debut, while Victor Martinez '22, Will Mina '22, Ethan Blum '20, and Jack Holloran '20 all had season-high single games.
The JV team then secured the match victory with a solid 123 baker game, propelling them to a 2-0 record on the year.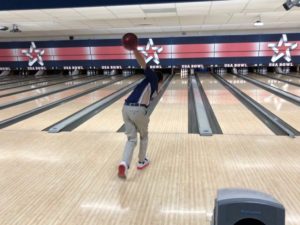 Coach Shoemaker
Coach Shoemaker, after the solid victory, praised his JV team as he said: "Everyone improved from Saturday."
After seeing many missed head pins, Shoemaker mentioned how "We need to continue to work on hitting our spots consistently and getting the ball in the pocket."
The JV team was able to play a full team in this match, and a good one at that, and thus didn't receive an instant victory this time. Coach Shoemaker mentioned this by saying "It was great to see the guys respond to the challenge, as it can be hard to get motivated for team games knowing that you have already won. Marcus had some great bowlers and Victor Martinez held off a red-hot bowler to clinch the singles sweep."
Silas Hartman
Silas Hartman, after the varsity team snagged their second win of the season, said: "I am very proud for being able to dominate the solos and grab the baker win. I like the team chemistry, and I think that as long as we keep this energy, we can for far in the season."
Hartman, despite having an off day on JV, said that "I personally didn't bowl too well, but I am happy that some of the JV players got new high scores and are really improving their form."
Continuing, he said, "JV is off to a great start, and hopefully they can keep up their win streak as well."
The Jesuit bowling team has lit up the lanes in their first few matches, and prospects look high for the rest of the season. The team returns to action on November 27th at their home alley, USA Bowl, at 6:30 against MacArthur.
Check back to The Roundup for more Bowling and other sports news!