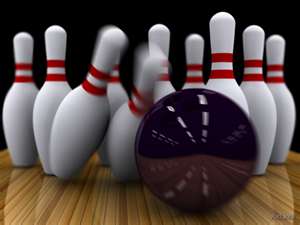 Do you like bowling? Do you need more activities to add to your resume? If you answered yes to either one of these questions, the Jesuit Bowling Club may be right for you.
The club is an enjoyable and competitive experience; this year, we won district, beating out schools like Lake Highlands, Skyline, and Winston. This season boasted 12 participants, all freshmen and sophomores. Due to our recent success, head coach Mrs. Kelly Mattacchione is pushing to expand the bowling program from a club to an official sport.
During the season, the team practices every Thursday afternoon from 4:30 to 7:30. Mrs. Mattacchione provides a ride straight from Jesuit to the practice lanes at USA Bowl, located on Walnut Hill Road and Interstate 35. We have lanes already reserved for us to bowl as many games as we can fit in the three hour span. The shoes are free and Jesuit can rent you a personal bowling ball (if you are interested) for only $60, but of course you can use a house ball instead. Our competitions are on Saturdays, either at 1:00 PM or 4:00 PM. The competitions usually last about two hours and are made up of individual bowling games and an event called "Baker Bowl."
Once individual games are complete, each team will form a team of five to participate in the Baker Bowl. Each of the five teammates will bowl two out of the ten frames (the first bowler would bowl the 1st and 6th frame, the second bowler would bowl the 2nd and 7th frame, and so on). For each individual game your team wins, you get two total points, and for each Baker Bowl game your team wins, you also receive 2 points. The team with more points after the Baker Bowl wins the game.
Jeff Ackels, a fellow sophomore, says about bowling competitions: "The competition in our district is great. It's fun to compete with the good of schools. It's also nice that we happen to be district champs." Steven Borik, another sophomore, adds, "Practice is fun. You get to relax and better yourself as a bowler every week."
Anyone interested in the great sport of bowling can talk to Mrs. Mattacchione about joining the club.
Condofive@hotmail.com Moodle message preferred.