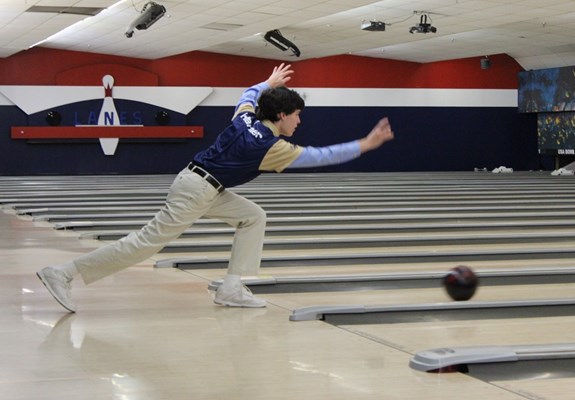 The thump of the heavy polyurethane ball collides against the pins as they fall, resonating against the glossy wood with a familiar rattle. Along with hard work and practice, these have been the defining characteristics of the 2016-2017 bowling season for the Rangers.
The Blue and Gold held a respectable 5-4 record this past season, showcasing 4 new bowlers who proved to have what it takes to finish the season with a winning record.
Head bowling coach Ken Howell spoke with The Roundup looking back at the season and the team's success going into next year.
Although unable to beat the talented Irving Nimitz squad this season, Coach Howell voiced that those matches "showed how gritty the team was. We really put a scare into Nimitz in both matches, just missing out on a win each time."
Mr. Howell praised the team's effort, emphasizing "how great [they] will become in future years with 4 new bowlers on the team."
Commenting on their success at districts and regionals (3rd and 6th respectively), Coach Howell explained, "The team performed really well, a really good showing for such a young team."
Chay Uy '17 had a memorable moment bowling in regionals, "bowl[ing] a couple of [his] best games," but was disappointed "to just miss out on state."
Explaining his favorite aspect of bowling, Coach Howell enjoy said, "The differences in background of my team come together and really mesh into a strong group. The strengths of each of them pull the others together to become stronger."
Looking to next season, Coach Howell explained that he is "really looking forward to seeing the new faces of students combined with our returning bowlers grow into a strong team that will bring pride to Jesuit."
The team is open to anyone who is interested in learning to bowl with the team, regardless of experience. Anyone interested in the opportunity should contact Ken Howell (khowell@jesuitcp.org) to set up a spot for them. 
Be sure to follow The Roundup's coverage of the Jesuit Bowling team next season! Go Rangers!