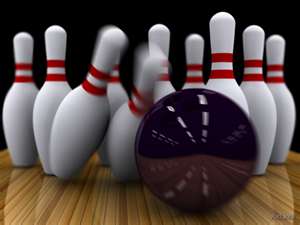 On Saturday, January 21, 2012, Jesuit's varsity bowling team defeated Skyline in a 14-1 rout, clinching the district championship for the second year in a row. More importantly, this district title earns them a spot in the regional tournament.
Jesuit started out strong by winning all of its individual games, which consisted of five players bowling two games each. Due to the great performance of the Ranger bowlers, Jesuit jumped ahead quickly with a 7-0 advantage.
But these individual games were just the first phase of the tournament; it was on to the "baker" portion of the tournament, which makes or bakes your score. The baker is a three-game playoff, where five players from each team bowl two frames per game. Although Skyline displayed a strong performance early, bowling strikes and spares, Jesuit fought back from behind, clearly illustrating the fight within Jesuit's bowling squad.
Nathan Leiter '14 tied with the Skyline squad in the first game after Skyline gained points early. The second game was much like the first in that Skyline began with a respectable score. Just as before, Jesuit rallied back through the adversity. Leiter carried Jesuit to victory by winning the final match.
When all was said and done, the scoreboard showed a lopsided 14-1 score that clearly reflected a Jesuit-dominant match. As a result, the Jesuit Rangers won their second consecutive district title, an event that demonstrates the Jesuit bowling team's talent.
"We play against other well-developed 5A and private schools," said math teacher Kelli Mattacchione, coach of the bowling team. "And [we] are considered one of the stronger teams."
"Just being a great bowler does not win district championships," said Mattachione. "Bowling is as much mental as it is talent. Bowling is tricky because you could have a good game, and the very next game not even make average and not understand why. Without their classmates' positive support and other coaches and parents volunteering their support, we could not have won district championship…back to back."
Despite the big win, Jesuit is not celebrating just yet.  The squad is very familiar with the taste of dissatisfaction that comes from losing in early rounds of the regional tournament, which they did last year. "I was disappointed last year in our performance," David Portner '13 said. "But it was a new experience for me and the team."  Portner certainly has great expectations: "This year, I expect far more from myself and the team. I also know that this team has the power to propel our way to the state tournament."
The Jesuit bowling team appears to be focused and destined to "bowl over the competition" at regionals. If you missed the district match, don't deSPARE; go out and support your Rangers at the tournament!