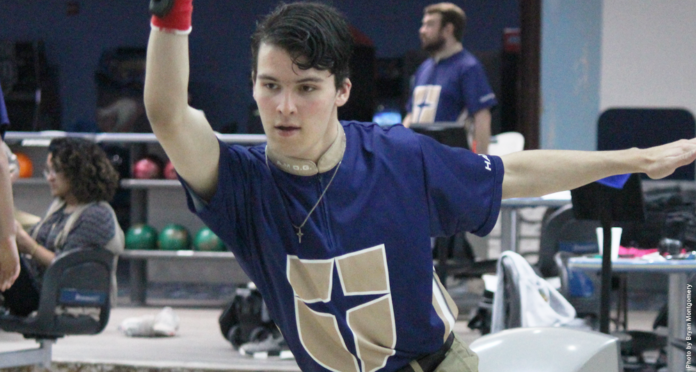 Silas Hartman '20 steps up to the ball return, grabbing his blue bowling ball. He lines up on the left side of the lane, a southpaw, and prepares for his approach. He pushes the ball forward, and slowly creeps towards the foul line. He lets the ball swing back, bright red Supreme sleeve visible, and slides towards the foul line. He deftly flicks his wrist with finesse, releasing the ball low to the ground in order to make it hook. It hooks down the lane, but then suddenly hooks by the pocket, missing his original mark. In outrage, teammates groan and gripe while the onlooking audience looks away in disgust. Just as they turn away, the ball keeps hooking, going right in front of the head pin and squarely striking the opposite pocket, knocking down all ten pins. In a sudden change of events, Silas' initial missed shot leads to a Brooklyn strike (when the ball hits the opposite pocket), as he fist pumps, celebrating the magnificent shot.
This shot from Silas reflects the performance of Jesuit against Flower Mound Marcus and MacArthur after Jesuit's loss to Nimitz, as no matter the shot they took it always seemed to end up with 10 pins falling down.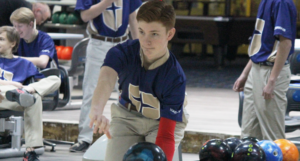 Nimitz
Jesuit, fresh of their victory over L.D. Bell, took on Nimitz on January 30th. Jesuit captured 4 out of 5 individual matches, with Austin Montpas '19 rolling a team leading 203, Jack Corrales '20 rolling 191, and Bryce Clark rolling a 166 to narrow victory by 5 pins over his opponent. Solon Hamer '18 also won his match, rolling a 172 and 180 to complete his 31 point victory. Jesuit then entered the baker matches (team games) with a 6-1 lead over Nimitz. Jesuit then lost all three baker matches in a row, losing by 15 pins in the first game, 38 in the second, and 12 in the third. The final score of the match ended up being 8-6, leading to a narrow victory for Nimitz over the Rangers.
Solon Hamer commented, "I think I performed very well against Nimitz's, despite having a tough opponent. I'm glad I had to play tough for the victory." Hamer said "We competed very well in individuals, and I think we did a good job with staying together as a team." But "I think the team struggled to maintain the same competitiveness through the end of the match, as we lost in bakers," he added about the defeat.
Flower Mound Marcus
Jesuit, on a one game losing streak, looked to bounce back against Flower Mound Marcus on February 6th. Jesuit captured 4 out of 5 individual matches again, with Silas Hartman '20 winning 326-215, Solon Hamer '18 winning 374-221, Austin Montpas '19 winning 323-250, and Bryce Clark '19 winning 290-273. This left Jesuit with a familiar 6-1 lead as they moved foward into the baker matches. Unlike the match against Nemitz, Jesuit came out strong in the first game, winning 203-143, and clinching the match. The Rangers went on to split the remaining two games, winning the match 12-3.
Austin Montpas '19 commented, "We did good overall, but we again missed a lot of spares which we need to fix."
Head Coach Ken Howell remarked how "The team bowled loose and confident, taking an early lead and pushing it through the end of the match," also noting how Captain Solon Hamer "has been bowling some of his best matches all year".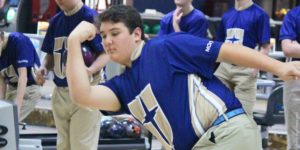 MacArthur
Jesuit, going into their last match of the season, took on MacArthur on February 17th at USA Bowl. Jesuit started the match off perfectly, with all five individuals winning their matches. Sophomores Jack Corrales and Silas Hartman won handily over their opponents, with Corrales bowling a team high 198. Bryce Clark '19 and Garrett Spivey '18 split their victory over their opponent, while Solon Hamer '20 and Austin Montpas '19 both dominated in their individual matches. Jesuit then proceeded to dominate in all three baker matches, winning the overall match 15-0.
Silas Hartman '20 commented how "I feel like I did well against MacArthur, but I still have a lot to improve upon." He followed this by saying how "I was able to hit the pocket consistently all night." Hartman felt that "The team closed out the season on a really good note. In the bakers, the team looked like a cohesive unit that could beat anyone." Hartman felt that the one thing to keep working over the off season would be the baker games, especially as new bowlers enter the program.
Off season
Despite a respectable season, the team wasn't satisfied with their performance, as they narrowly missed the regional playoffs. This discontent will surely bring about results, as the team moves forward into the intense off season.
Assistant Coach Matt Shoemaker remarked how in the off season, "We need to improve our spare conversion rate and baker games in order to reach our goals." He also commented how next season, "We have the potential for multiple bowlers to qualify for the regional competition in addition to the team, with the return of four starters on varsity."
Head Coach Ken Howell commented how "Over the off season, I am hoping that the team works on their technique and form to get a consistent roll on each ball they throw." He also remarked how he hoped the team would "work on picking up those tough spares that they had trouble hitting through the season." Howell mentioned how towards the end of the season, "The boys really started to come together and bowl like a real team through the season and I am hoping that carries over into next season." Echoing the comments of Shoemaker, he said how "With the core group of guys that we have coming back next year, I really see us pushing for a district title next year as well as competing to get to state in regionals."
Reflecting on the off-season, Silas Hartman commented how "I think the team could improve on how we perform in baker matches. In our past few matches, we were really supportive of each other and I think that translated into better overall performance for the team." Hartman, talking about the team's dedication to practice, referenced how "I'm going to take this off season extremely seriously, going to the bowling alley early in the morning at five and then returning again in the afternoon to hone my craft."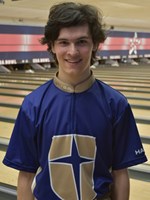 Senior Solon Hamer '18, who has been bowling with the program for all of his four years at Jesuit, said "I think my four years on the team were wonderful, and I'm proud of my accomplishments and my team's accomplishments." Hamer remarked on how "I'm so glad I had the opportunity to get to know my teammates because they made being on the team even better. I know they can continue to succeed in the future."
The bowling road doesn't end here for Hamer, as he plans to continue bowling in college whether it be on a team or outside the league, where he can bring success through his experience and values.
Check back with the Roundup for more bowling and other news!