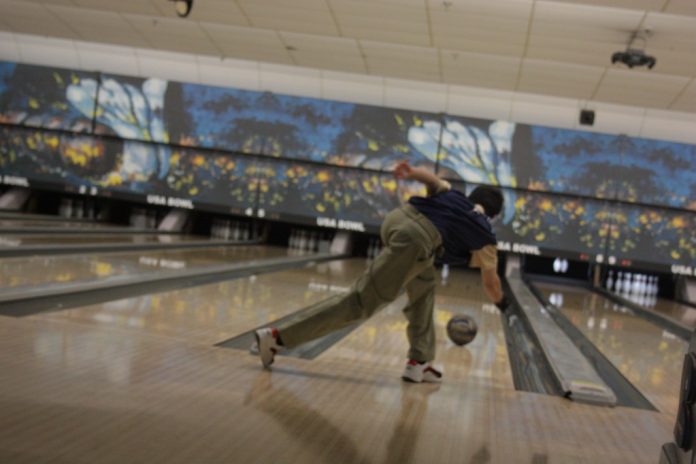 In flawless style, the Jesuit bowling team finished the season a perfect 10-0 thanks to perseverance and teamwork. Absolute perfection led them to great opportunities at a championship.
Bowlers David Portner '13, Jason Wolf '13, Nathan Leiter '14, Jonathan Mendiola '14, Alex Gulis '14, and Austin Teel '12 all came together to captivate a wonderful regular season for Jesuit bowling. Jesuit's bowlers figured out early in the season that they were the team to beat. "I feel like we kind of dominated every team we played," said Austin Teel, the lone senior on the squad.
This perfect season earned bowlers spots in the regional tournament coming up on March 4th.  Portner, Leiter, and Mendiola, who all clinched spots, will individually compete at Regionals.
These Jesuit bowlers will go up against bowlers from Garland, Richardson, and Mesquite in order to clinch a ticket to the state competition later in March.
Portner, who just recently purchased a brand new ball in celebration of their second straight district championship, appeared extremely pumped up and excited about his chances at the regional tournament.  In a short encounter, he talked about the importance of still practicing even after such a marvelous year.  His hard work ethic allowed him to get to regionals.
Jesuit bowlers look forward to facing some tougher competition outside of their district. "Our district is pretty weak," admits Teel. "The schools we [bowled against] didn't take their bowling programs very seriously. We're ready to face some competitive bowling schools."
Mrs. Kelli Mattachione, a math teacher and the head coach of the bowling team, asked for all of the Jesuit community to "wish them luck [in regionals] so they can hopefully earn a spot to travel to state."
Look for more news soon to follow up on the bowlers' performance in the regional tournament on March 4th, and again congratulations to them for their astounding regular season accomplishment.