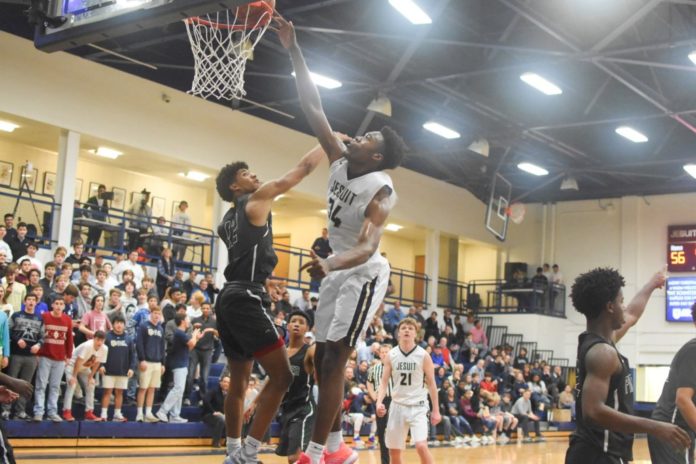 Nearing the middle of district play and approaching onto the playoffs, Jesuit's varsity basketball team has continued its dominant play and established itself in first place in the district rankings. A few of the critical games recently played were against some of the hardest competition in the district including McKinney, Plano East, and Plano West. During this stretch, Jesuit went 2-1, with wins against Plano East and McKinney, and its lone loss coming from a hard-fought game against Plano West game that as Darryl Brown '20 said, "helped strengthen the already strong chemistry" between the team.
McKinney
Traveling to McKinney High School, Jesuit came away with a victory, beating McKinney 80-67. McKinney jumped out to a quick lead, taking a seven-point lead as their stout defense and timely shooting helped build the lead. With the help of senior Connor Wilson, who hit three straight threes to close the lead, Jesuit was able to close the deficit, relying on their perimeter shot to spark their offense, as they went 16-29 for the game from behind the arc. As the first half ended, Jesuit found itself ahead by two points, with senior Max Abmas scoring at the buzzer.
A gritty third quarter led Jesuit to hold their small two-point lead as the fourth quarter began, but began to add to their lead and went on a commanding 21-7 run, swinging the momentum heavily to the Jesuit side as McKinney suffered from an inability to score.
Jesuit was led by Abmas, who hit five three-pointers, totaling 25 points, and sophomore Gavin Perryman who also scored 14, while dishing out another six assists. Junior Darryl Brown grabbed seven rebounds, and senior Anthony Hollerich went perfect from the line, going 8/8, helping Jesuit make 18 out of 21 free throws.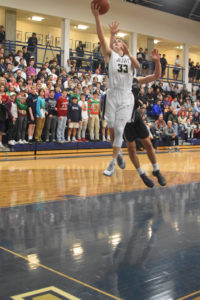 Plano East
Jesuit continued its success in district play, coming out on top 57-53 in front of a strong home crowd at Walsh Gym. With the Panthers looking to spark an upset, strong outings by seniors Max Abmas and Julius Marble, and juniors Darryl Brown and Eli Steger, helped secure the win. Abmas put up 28 points, thanks to his strong three-point shot and hard drives to the basket while Marble, returning from injury, scored nine and also grabbed another nine rebounds, while fueling the crowd not only with his commanding blocked shots but also with the highlight dunks thrown down. Brown contributed a solid seven points and five rebounds while fellow classmate Eli Steger secured another four rebounds. Steger '20 said the all-around effort and numerous contributions from each player throughout helped "highlight the good work ethic and determined play" that helps Jesuit excel as the game goes on.
As the 1st quarter began, Jesuit and Plano East grappled for the lead, both looking to take a lead and establish some confidence. Jesuit found itself ahead by two at the end of the first, and with a strong 12-4 run, helped put themselves ahead as the second quarter unraveled and eventually went into halftime with a five-point lead at 22-17.
In the third quarter, Plano East was able to get back into contention, tying the game as their perimeter shooting caught fire. Once again, cooling the momentum of the Wildcats, Max Abmas hit at the buzzer, sending Jesuit into the fourth quarter with a two-point lead.
As the last quarter unraveled, Jesuit used a 13-6 run to widen the lead, crushing any momentum held by Plano East, playing stout defense while effectively shooting at the free-throw line to put away the Panthers.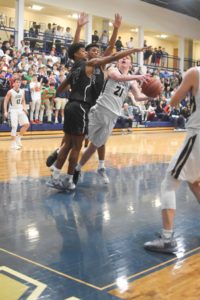 Plano West
Searching to maintain its win streak, Jesuit's rally fell short, falling 63-59 to Plano West. Finding itself down one after the first quarter and down by eight at the half, Jesuit was hampered by poor shooting and tough defense, allowing Plano West to go on a 14-0 run during the second quarter that created the tough deficit. A last-second buzzer beater by senior Julius Marble, who had twelve points to go along with a team-high nine rebounds and another three blocked shots, helped send Jesuit into halftime with some assurance that they could fight back into contention.
As the third quarter continued, once again West was able to limit Jesuit's scoring, sending them into the fourth quarter with a 46-35 lead. However, Jesuit's great effort led to an almost successful rally, using a 12-4 run of their own to help shorten the deficit. As the two teams traded baskets, seniors Anthony Hollerich and Max Abmas were able to cut the lead to one as they hit on a jumper and three-pointer from Abmas and another layup by Hollerich. However, the Wolves were able to shut down the visiting Rangers in the final minute, escaping with the win.
Along with the strong efforts of Abmas and Marble, senior Connor Wilson once again proved effective from the perimeter, hitting a pair of timely threes to contribute to his six points and grabbing another five rebounds. The team was also without sophomore Gavin Perryman, who suffered a concussion that sidelined him.