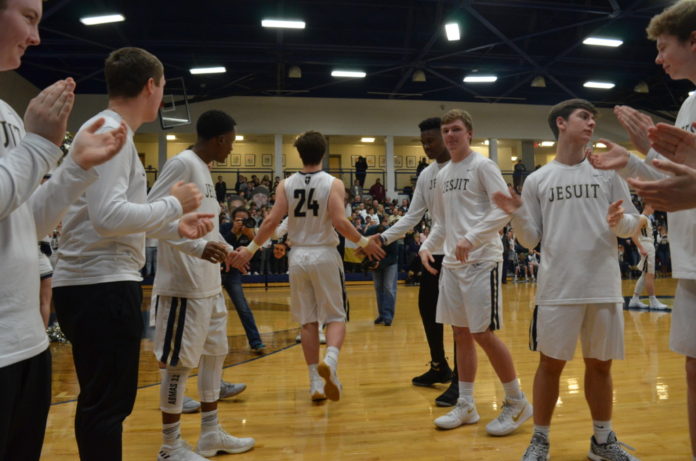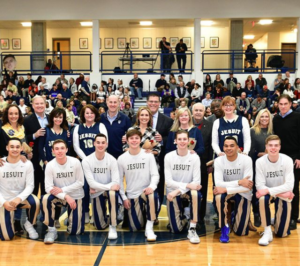 This is it. The Senior Varsity players have finally made it. After four years of hard work, dedication, and team spirit, the seniors marked their last win of their regular season Jesuit career at their own home field. Tears of joy, sadness, and relief were all present from the players, their parents, and all those who have been to the games since the seniors were freshmen.
This was the Rangers' final game against one of their biggest rivals, Skyline. The Rangers won the game 53-45 and this game was the best feeling all the seniors had for their last home game at Jesuit.
Many seniors felt incredibly relieved and sad as they all had great chemistry together and many of them were friends in school and outside the court. They all shared the same experiences, struggles, and accomplishments on the courts. They knew each other's strengths and weaknesses on the court.
The game was a hard one for the boys but they were able to pull through. As Keagan Nwosu '18 put it, "the game was tough and long but we ended up getting the job done." The seniors fought hard to get the last win against Skyline, and it was so much joy and relief that they were able to pull through on their very last game in Jesuit territory.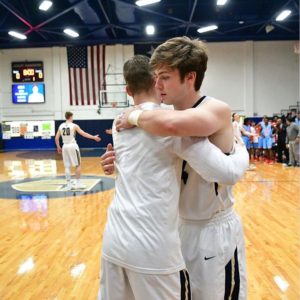 Keagan said that "Senior night was an amazing experience and I was sad to know that it could be the last time playing at home at Jesuit."
Reid Hatzmann '18 had much to say about the game. "Senior night was a big game. For me and a couple of guys, it had ended a 3-year career on Varsity playing in Walsh gym so the final game was bittersweet. We were able to pull out a big win against Skyline and end their season which was a big feat for us after they had beaten us the past few years."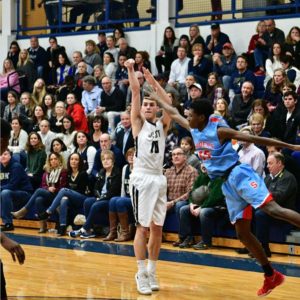 Chris Horton was proud of how the team performed and said that it felt wonderful to finally beat such a tough opponent. "Skyline played it close because they capitalized on our mistakes and poor rebounding but we were able to pull away late because of clutch shooting, big stops, and free throws."
Many of the players were proud of how much support they had during the game. Reid said that "the fans that showed out that night played a major role in the win and we got a really strong victory under our belt heading into playoffs."
Marcus Hill '18 believed the game to be very moving for everyone attending. "It was a really special experience after three years of playing Walsh gym in front of the fans. It was definitely emotional for me once the game ended. When the students started singing the Alma mater there was a feeling of sadness and joy across the entire gym." Matthew Walsh '18 believed that "it was fun to spend one last game with my family there."
Michael Jankovich '18 said that "it was a bittersweet experience because of all the great memories that happened in there but sad that that will be my last game in that gym." Joey Preeboy '18 will remember the night, not for the festivities but so much for it being the last home game in the Walsh gym. "All the hours I have spent working in that gym to be concluded in a mere few hours was hard but awesome… overall a memorable night and a fun one with a great atmosphere and opponent."