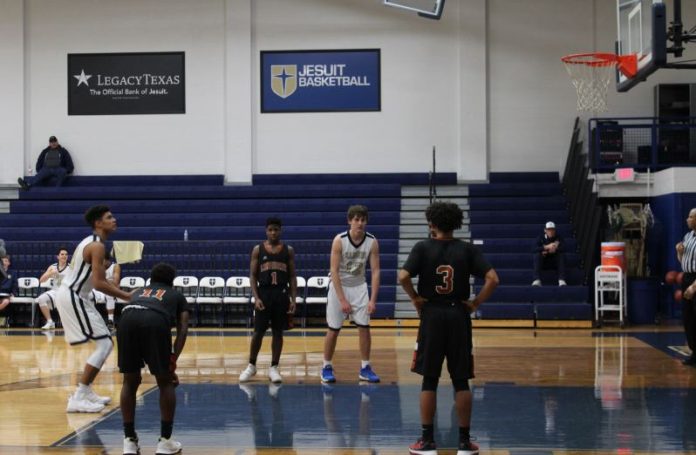 Dominating their district schedule, Jesuit's JV Gold basketball excelled through the 2018 conference games, posting eleven straight wins during their dominant march.
Along the way they took on Lake Highlands, W.T. White, J.J Pearce, Berkner, Coppell, and Skyline. Jesuit won most games handsomely, with wins of 63-48 over Richardson, 58-39 against Berkner, 52-42 over a talented and well-coached Lake Highlands, and finally a strong win 57-43 against J.J. Pearce.
Christian Allocco '20 said, "the two most important wins this season were against Coppell and J.J. Pearce. But Pearce was more important because of the rivalry." During the Pearce game, the intense competition displayed throughout only increased, with Jesuit slowly out-gaining the Mustangs for a dominant season-ending win that closed their win streak out at 11.
The other important win and another highlight of JV Gold's seasons was against a solid Coppell team, which they beat in a nail-biting overtime win 54-51, which Zach Pendola '20, attributed to "the team's hard work and discipline" that led to the success found throughout the game, developed through practice and the culture surrounding Jesuit's proud basketball program.
Along with this determination, Zach said the team's success in January and February can also be attributed to the "leadership installed by the Juniors on the team," helping guide the young and very talented squad to such a triumphant season and happy ending.
Jesuit ended the season with an astounding 24-3 record (.889 win percentage), managing to go 11-1 through conference play. This squad was able to play exceptionally well on the road, going 18-1 in games located away or in neutral sites.
This strong team's foundation looks bright and promising, hopefully with several players contributing to Varsity in the playoffs or next year as Jesuit continues to expect dominance and success.