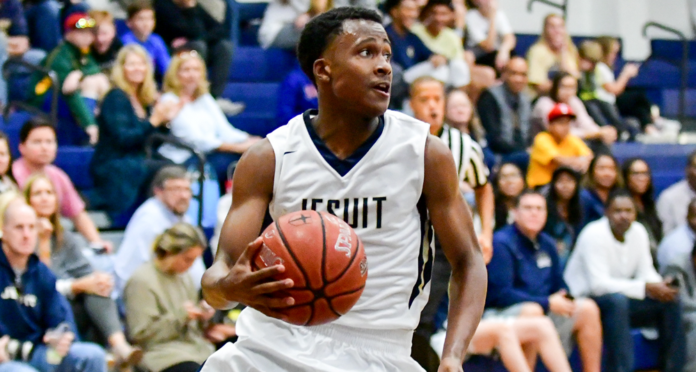 Sweat drips down his face onto his cotton, blue jersey as he tunes out the crowd cheering him on. His eyes focusing on the basket as he rushes down court and lines up his shot. While the clock counted down to the last millisecond, the crowd went silent as he lined up his shot and took it. The ball flew through the air while no one in the court whispered a single breath. The ball made it into hoop and the crowd erupted in cheers.
The Jesuit basketball team recently participated in the Allen Holiday Invitational and in two games against Timberview and Coppell. They lost the tournament but won both of the games. Going into each of the games and the tournament, the team had high morale.
ALLEN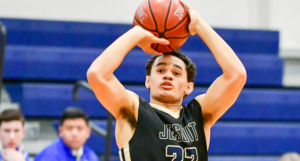 When asked about the Allen tournament, Julius Marble '19 said, "Good, I felt poised to for a win." They were worked very hard together but unfortunately lost to Lake Travis, who placed second overall.
Marble learned that "working hard yields results." They will keep this in mind as they go into their next game against Timberview.
TIMBERVIEW
Before the Timberview game, Reid Hatzmann '18 said, "I was pretty excited. Timberview was ranked the 2nd best team in 5A division. We were ready to challenge them and show that we were a really good team."
During the game, Timberview was leading in the first quarter but afterward, Jesuit caught up and started leading. It was a close game and eventually Jesuit came out on top.
Hatzmann reflected, "There's no better feeling than securing a major win and knowing everyone on the team did their part.  It was an incredibly fun game, and I was real proud of how we played." With the team's intensity at an all-time high, they were ready to go up against their next team, Coppell.
COPPELL
Leading up to the Coppell game, Hatzmann said, "That was the first district game so the mindset wasn't that much different, the games just have more weight.  From this point on, every game we play determines how we will look going into playoffs so every game matters."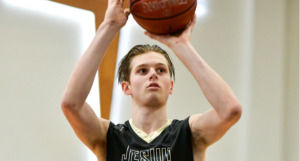 Though it was a low scoring game, this just showed how good both teams were. Both of them trying to prevent the other team from scoring while also trying to score themselves. Jesuit eventually pulled ahead during the 2nd and 3rd period.
After the game, Marble was pleased: "I felt good because we came out on top"
Hatzmann agreed, saying, "I was happy with our wins and I was confident in the team."
The Jesuit team has many more games that they have before the end of the season so it's time to bring home another Jesuit win.