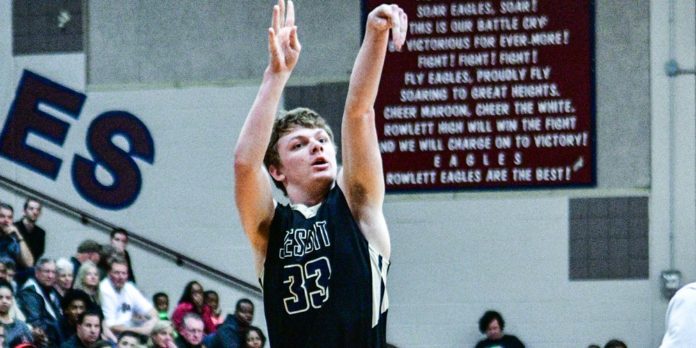 "Some people want it to happen, some wish it would happen, others make it happen." – Michael Jordan
Jesuit, after working hard all off-season to improve on their impressive 2017-2018 playoff run, showed their determination as they started off the season with two impressive wins. The Rangers played DeSoto on November 9th and Mesquite on the 13th, with their home opener being against Mesquite.
DeSoto
Against DeSoto, the Rangers started off the game a little slow with a 9 point deficit at the half. The Rangers slowly clawed back into the game as the third quarter began, but DeSoto still held strong, as despite a 10-4 run by the Rangers, the Eagles entered the fourth quarter with a 10-point lead. Jesuit came out firing in the fourth, with back-to-back threes within the first few minutes. Jesuit continued this charge, eventually taking a two-point lead with about a minute left in the game. After a made three by DeSoto, a technical foul gave senior Max Abmas two free throws, which he calmly made. Abmas was then fouled again, making one of the two, giving the Rangers a three-point lead. DeSoto was unable to score, leading to the Rangers 63-60 victory.
Julius Marble '19 played excellently in his first game back from his injury last season, putting up 21 points and bringing down 12 rebounds, achieving a double-double in a dominating performance. Max Abmas '19 also played phenomenally, scoring 16 points, with many coming in the fourth quarter when the team needed them the most. Sophomore Gavin Perryman, in his first varsity game, scored 12 points shooting 5 of 8 from the field.
Senior Connor Wilson commented that "We started out slow, not being able to make many of our shots, but towards the end, we were able to get a couple of huge stops and pull out the win."
However, Wilson felt that there was room for improvement on defense as he noted: "we need to improve on our defensive communication and being in the right positions."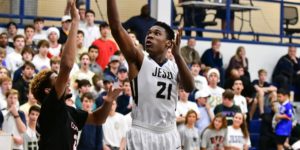 Mesquite
In their home opener, Jesuit came out on fire, ending the first quarter with a 27-14 lead after a dominant dunk by Senior Julius Marble '19. Jesuit and Mesquite stayed even for the rest of the game, with each team scoring about the same amount of points each quarter, leading to a 75-59 Rangers victory.
Four Rangers finished in double digits, with Anthony Hollerich '19, Gavin Perryman, and Max Abmas all scoring 16 points. Julius Marble led the scoring once again with 19 points and managed to snag nine rebounds as well.
Eli Steger '20 said, "We started off strong with a lot of energy and kept that up for most of the game, and even though we lost a little bit of focus at the beginning of the 3rd quarter, we buckled down and bounced back to stop their run."
Steger continued, saying "We have to continue to grow defensively since we have plenty of guys who can pretty much score at will, and if everyone does their job to the best of their abilities we will be a dangerous and exciting team."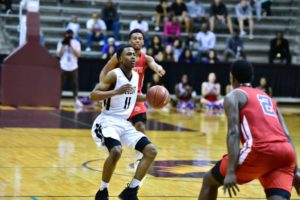 Coach Hill
Coach Chris Hill, after reflecting on the first two games, though the team played well as he said "Against DeSoto, we had to come back from being down double digits in the second half and against Mesquite, we had to hold an early lead the whole game. I thought that we handled both situations very well [and] we responded with confidence to tight situations which is very encouraging this early in the year with so many kids in new roles."
Despite the team's stellar start, there is always room for improvement, as Coach Hill noted how "In both games we had a lot of little details that we missed on that made things harder than they needed to be, [and] we have to get better at concentrating and competing at the same time [because] our desire to win can make us forget some of the details that are going to help us."
The varsity team this year has a lot of potential, as Hill mentioned: "This might be one of the most intensely competitive groups we've had."
He continued saying "Sometimes it takes some work to bring it out but when we get to that point it is pretty special."
After a strong start, the Rangers hope to continue their winning streak as they face off against Lincoln and Denton on November 19th at Lone Star H.S., beginning the Lone Star Classic.
Check back to The Roundup for more basketball and other news!