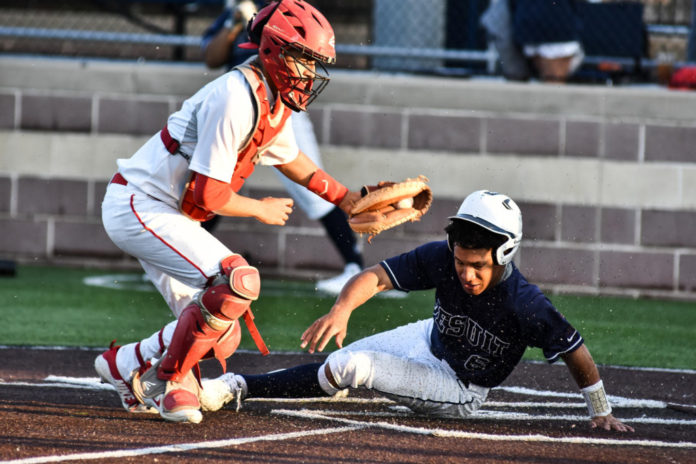 In the last 2 weeks of March, Jesuit Varsity baseball won all 6 games. In four of the games, the Rangers won by at least ten runs.
Week of March 18
The Rangers beat Richardson in two games, winning 11-1 on Tuesday the 20th and 4-3 on Friday the 23rd.
John Lynch '19 spoke on Jesuit's performance. "It was the first chance after the first week of district to bounce back and get two wins. We were able to do that because of the hitting. We pitched well, but the whole team hit in the series and in game one we were able to Run Rule Richardson."
On Saturday, Jesuit narrowly beat Red Oak 13-12, rounding out the week with the Rangers 3 for 3.
Week of March 25
Jesuit continued their winning streak the next week, beating Skyline in two games and Midlothian in one.
Jesuit beat Skyline 14-0 and 10-0 in two games on Thursday.
Senior Bijan Kilamijor was happy with how the Rangers played. "I think we performed very well. We swung the bats very well, especially against Skyline and that run rule against Midlothian."
During the Midlothian game, Jesuit won 13-3, shutting out Midlothian after they scored three runs.
Lynch mentioned the Ranger's attitude during the game. "The Midlothian game was a game which we started off dead and kinda tired but after they scored three runs in the first we understood we had to step on the gas pedal and get a win."
Hopefully, this "pedal to the metal" attitude will carry the Rangers into the playoffs.
For coverage on the Jesuit Baseball and all things Jesuit, stay tuned to The Roundup.