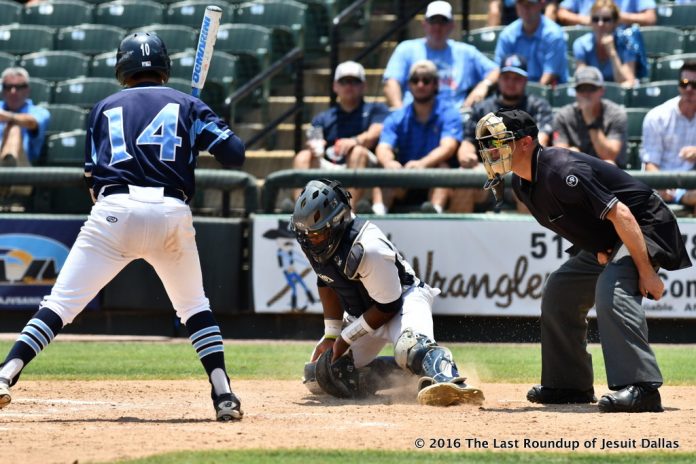 The Jesuit Rangers Baseball team hosted their annual Jesuit Dallas Baseball Classic from March 2nd through March 4th this year. The Rangers hosted Denton, Lovejoy, Plano West, Sherman, Forney, and Bishop Lynch as they went 4-2 over the 3-day round robin tournament.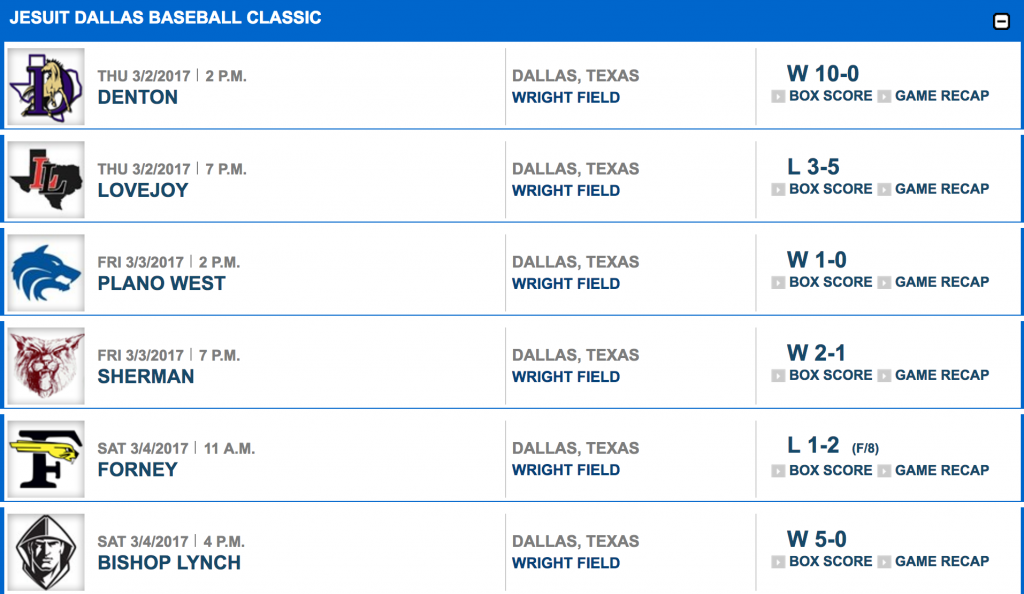 The Rangers started off strong with a 10-0 win over Denton on Thursday afternoon. Junior Tyer Murrah threw an incredible perfect game, striking out 4 batters in route to his 5-inning shutout. The Rangers also got the bats going with 8 team hits, including 2 doubles by senior first baseman Will Guzman.
As for Thursday night, the Rangers were unable to maintain a 3-run lead going into the 7th inning as they fell 5-3 to Lovejoy. Although, the Rangers still had a very productive game on the mound and on the plate and Arizona-commit J.J. Montenegro was able to strikeout 10 batters in 6.1 innings for Jesuit, along with only allowing 2 hits.
Friday, the Rangers were able to go 2-0 in their games against Plano West and Sherman. After a heartbreaking loss last year to Plano West, the Rangers were able to get a hard-fought 1-0 victory. Junior Peter Delkus had an impressive showing as he only gave up 4 hits and 0 runs in 6.2 innings pitched.
Then, for the night game, the Rangers pulled out another tough win as they defeated Sherman 2-1. Senior Wyatt Hasson took the mound to start the game and didn't turn back. The 2-year varsity player was able to go a complete game, only giving up 3 hits, 1 run, and striking out 4 batters. As for the Rangers' bats, junior Jaden Woodson and Santa Clara-commit Mark Ready accumulated 3 hits and 2 runs as a unit, both being hit in by seniors Jake Ryan and Will Guzman, respectively.
As for Saturday, the Rangers started off their day with a tough 1-2 loss to Forney in extra innings. Senior Miles Okamoto went 7.2 innings with 8 strikeouts and only 2 runs, but the Jesuit bats couldn't get hot. In this hard-fought game, all 3-runs were scored in the 8th inning as the Rangers couldn't rally back from being down 2-0 with 3 outs to spare.
Finally, the Rangers hosted a rather familiar foe, Bishop Lynch. The Rangers used the early defeat as fuel to a barrage of runs and hits against one of its old rivals before Jesuit moved to the UIL. In the 5-0 victory to end the weekend, senior Heath Van Kirk went all 7.0 innings, only giving up 5 hits in route to his shutout. At the plate, the Rangers racked up 12 hits as a team, led by Mark Ready, Jaden Woodson, and John Guzman with 7 combined hits.
As we get into district play, the Rangers currently sit at a record of 13-10. After a tough pre-season schedule, the Rangers will look to settle in and find their groove as they look to defend their UIL 6A State Championship.
You can see the remaining schedule, stats, and much more on the Jesuit Rangers baseball sports page.