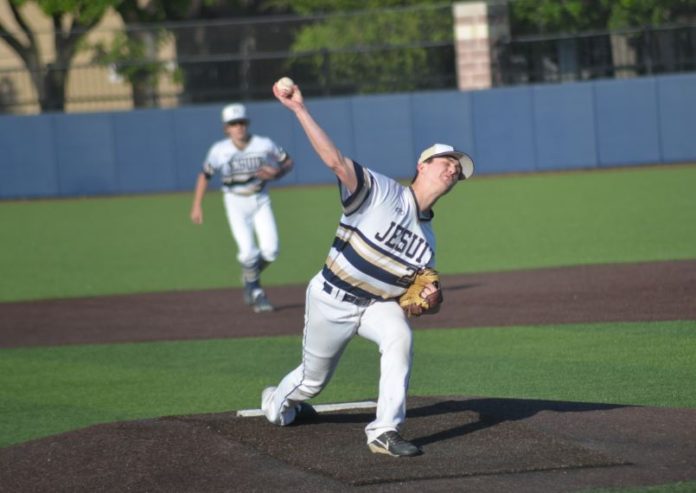 The Jesuit JV baseball team dominated opponents all season long, dropping only one game to powerhouse Prosper, dominating opponents on the mound as well as the plate. With lots of momentum heading into the second half of their season, the Rangers looked like well-rounded ball club, able to play with anyone in the state.
After the Jesuit's own Round Robin tournament, the Rangers faced the Coppell Cowboys, a local powerhouse filled with talent. The Rangers, armed with plenty of firepower of their own, shut the Cowboys out in both games by a combined score of 19-0, dominating on the mound and in the field. Jack Morsbach '19 said, "I think we made quite a statement with those wins, that we can play with anyone, and it gave us a big confidence boost in ourselves that we have the ability we just need to continue working hard."
After this stellar performance, the Rangers grabbed wins against local teams like Red Oak and Skyline, as well as crushing out of Dallas opponent Midlothian with an impressive 10-2 win. The Rangers didn't lose at all in March, a nod to not only their skill but depth as well especially in the bullpen with an impressive lineup such as Junior Colin Senick '19, and Sophomores Connor Theole '20 and Alex Houiillon '20.
Looking to close out the season strong in April, the Rangers did undergo some hectic scheduling, as at least two weeks in a row rain caused delays and made rescheduling necessary. They didn't skip a beat though, winning all of their district contests by a margin of ten runs or more against teams like J.J. Pearce, W.T. White, and Berkner. Niko Hernandez '19 said "I couldn't have imagined a better season with such a great group of guys, and I can't wait to come back next year and get after it all over again."
Congrats to JV Baseball on a great season and remember to check in at The Roundup for more coverage!