As the second semester of the 2019-2020 school year ends, the current seniors will be graduating on June 5th and embarking on the next big step in their lives. I have had the pleasure to interview 5 graduated seniors, getting that much desired insight about where they're going off to, why they choose that particular school, and how they believe they put themselves in a position to go there. We will all miss the class of 2020, but fortunately they have left some last words of wisdom for the underclassmen to read and digest.
Moreover, each senior was presented with these baseline guiding questions:
How has your time at Jesuit helped you to attend such a great school?

What made you choose the school you did?

How do you feel about attending this school? 

What tips do you recommend to people applying to prestigious schools?
Here are their individual responses:
Silas Hartman '20
"My time at Jesuit has made me realize the importance of making the most of my time at school. And that is what helped me decide which college I wanted to go to. For me, I really like to be involved in as many activities and clubs as possible to really get to know all areas of the school and all types of people. And that's what I did at Jesuit- I made an effort to get involved in a bunch of extracurriculars.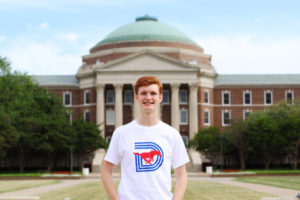 So, I am attending Southern Methodist University not just for its great academics and athletics programs, but also for the opportunities I will have there. I will be able to join a large number of clubs and organizations in the first few weeks, so I'm really excited for that."
"My main tip for people applying to prestigious schools is to be open. For me, SMU was not in my top 10 list in May before I applied, but as I learned more about it, I applied, and as it turns out, I'm going there! So don't rule anything out until you are sure, and don't be too bummed if you don't get into a bunch of places. It's getting extremely difficult to get into prestigious colleges, so tons of qualified applicants get denied. I didn't get into a lot of the places I applied, but I'm so glad that I applied to SMU because I'm realizing how great it will be."
Sean Myrick '20
"Jesuit has done a great job of teaching me how to be an advocate for myself. College professors don't check up on you if you have missing work, or if you've been absent from class. I believe the academic life at Jesuit has prepared me for this change.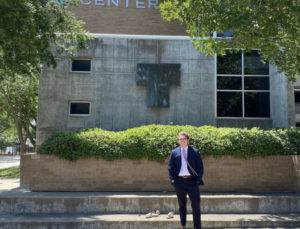 I chose UT primarily because of the strong tradition of academic excellence, student life, and a large alumni network. I'm feeling a mixture of excitement and uncertainty as l picture the next four years.
The one recommendation I have for those applying to college is to be yourself. Don't try to fit yourself to the college, find a college that fits you."
Will Florer '20
"I'm attending the University of Texas this Fall.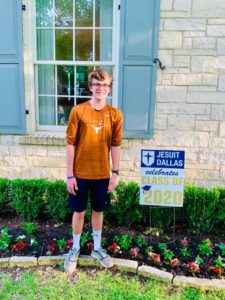 I am confident that Jesuit's academic rigor has thoroughly prepared me to find success in my college studies. I chose Texas because I was accepted into the Forty Acres Scholarship Program and a great major called Plan II. I'm excited to go to school in Austin; it's the perfect distance from home for me.
For Juniors who are planning their college application process, I highly recommend starting your essays and resume in the summer before Senior Fall – you'll feel way ahead of the game. Also, use the resources offered by Jesuit to your advantage; your teachers and counselors will help you get where you want to go."
Diego Sierra '20
"Throughout my time at Jesuit, I have developed a lot of skills that enabled me to attend such a great university. Jesuit taught me something very valuable every year which I used to my advantage. By this, I was able to achieve many great things at Jesuit as well as getting accepted into my university. 
Before making my final decision, I was struggling to decide since my top 2 choices were very similar; however, when I went and visited Indiana University, it completely changed my view. The reason why I chose IU was because everyone I met there there was so nice. I just got that "feeling" and I was vibing. I knew I recognized that feeling and that vibe because it was the same vibe that Jesuit gave me and that was what made my decision clear.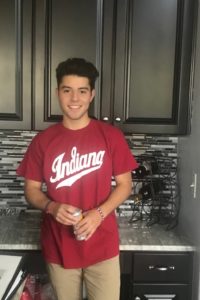 I feel very excited about attending this school. I knew I wanted to go to a big school because I'm pretty outgoing and love meeting new people as well as making many new connections. I'm very excited about this new journey in my life. The plan is to go to Bloomington, study, have fun, and conquer. simple as that. 
I definitely believe that you need to be very organized. Time management as well as the time you dedicate to your college applications is very vital. Also, if you're applying to some prestigious schools, I advise you to get in contact with some students that go there to see what they are like and what types of students they admit. Vibe check the schools real quick ya know? I also encourage y'all to apply early action if you can because it allows you to potentially get your decision back at an earlier date, which means that you will have the gift of having more time to choose where you wanna spend your next 4 years.
Trey Ashmore '20
"While I don't think Jesuit offered any advantage in college admissions relative to other private schools in the area, over the past four years, Jesuit has inspired me to be the best version of myself. I've always been pretty motivated academically and pushed myself at Jesuit to do the best I could. The teachers at Jesuit across the board go above and beyond to give us the tools to help us succeed, and there was some pretty fierce academic competition in our grade that pushed me to achieve my academic goals. In terms of extracurriculars, I positioned myself to lead a handful of student organizations, participate in countless others, captain the tennis team, and have a social life. I don't think I could've fit so much into my high school experience anywhere else, and for that, I'm forever grateful to Jesuit and the class of 2020.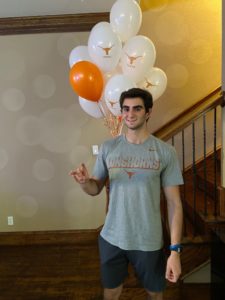 I meet the academic threshold of all schools, but the most important things I highlighted in my application were starting an LLC with classmates and working at my family cleaners for 6 years. This response is already way too long, but even though I don't think going to Jesuit posed any advantage in college admissions relative to other private schools in the area, I didn't choose to attend Jesuit to get into a "great school." I got out of Jesuit more than I could've hoped for because I surrounded myself with the best group of guys I could've asked for, challenged myself academically, forged meaningful relationships with teachers, and pursued leadership that cumulatively developed my character, maturity, intellect, and curiosity, and made memories and friends that will last a lifetime. Wouldn't trade the last four years for the world.
The decision-making process was pretty grueling, considering I hadn't visited most of the schools I was accepted to and changed my entire paradigm on higher education in the month I had to make a decision. I was primarily deciding between UT and Duke, and on the May 1 decision day, I really couldn't make up my mind between the two. They're very different schools that offer different experiences I know would both be great for me, but from a value standpoint, Duke paled in comparison to Texas. Academically, I'd be in UT's well-respected business and liberal arts honors programs and likely be among the first to meet and be recruited by employers, I'd be in classes with fewer than 40 students across the board, and I'd probably "look better" relative to my peers than if I attended Duke, where most students are similarly over-achieving and competitive.
One thing I'm most excited for at Texas is having to prove myself on a larger scale. The 40,000-student pond at UT is among the largest and most respected in Texas and the US, and conquering that stage is a challenge I'm excited to take on. At Duke, I could see myself being a smaller fish in a smaller pond. While Duke's academic reputation on a national scale might be better than UT's, I want to eventually live and do business in Texas, where UT's network is second to none. UT in Austin offers a better social scene than Duke in Durham, and it's nice to be close to home, especially with the uncertainty of the coming months.
Couldn't be more excited to spend the next four years on the 40 acres. Combining academics with extracurricular and social opportunities, it's definitely the best school for me. I love the spirit and pride associated with being a Longhorn. Part of me was salty that I spent four years frankly grinding my ass off to go to my safety, when I had "more attractive" offers to Top 10/20 schools on the table, but I definitely think I made the right choice.
I spent hundreds of hours researching and preparing my college apps to be the best they could be, and I'd be more than happy to help anyone looking to do the same. Each person's situation is different, but feel free to reach out to my email 20015@jcpstudents.org or cell (972) 567-1246 if you have any specific questions or need any specific help. Would be more than happy to work one-on-one with anyone lost in the college admissions process."
Will Nickols '20
"Jesuit's focus on community service and social outreach were particularly instructive in my application. For every school that admitted me, I wrote about Bed Start (a Dallas organization that picks up and delivers furniture to people in need), our tornado clean up in
the fall, my Eagle Scout project, or another service project over the last four years.  In a more indirect way, Jesuit also provided me some of the experiences that helped with my essays.  For example, I wrote one essay about the UT Southwestern STARS program last year (which I learned about through Jesuit Medical Society) and one essay about the
DART train ride there every day.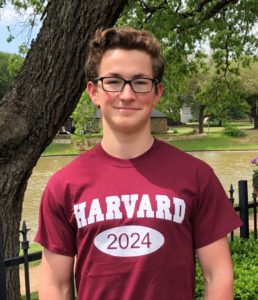 Initially, I considered all the normal factors: strength of
academic programs, cost, social atmosphere, location. But ultimately, it came down to who I knew that was currently attending. Over Christmas break, a few weeks after I was accepted into Harvard, I went to the gym with Emmet, and we got breakfast afterwards. We talked about interesting faculty members, the powerlifting team, research
opportunities, what classes I should take, and what parties were like; yet, more than any specific detail he listed, I could see that Emmet was truly enjoying his time there.  I look up to Emmet, and I consider him pretty similar to me, so I figured: if he likes it there so much, I probably will too.
I'm extremely excited but slightly nervous for next year.  The big question is whether we'll have class on campus; the president has said there will be no official statement until July, so we're all waiting eagerly. I have a decent plan of what extracurriculars I want to do -biochemistry research, a Phillips Brooks House ongoing service opportunity, powerlifting, a pre-med club – but I still have to figure out what classes I should take and what my second major should be (either philosophy or statistics). Still, I'm a little worried about going to a school where I know no one in my grade; we form such incredible friendships over the four years at Jesuit, and it seems daunting to try to create that again from scratch.
I have different tips for guys in different grades. For rising freshmen, sophomores, and juniors, work hard in challenging classes, make good grades, and meet with teachers if you don't understand something. For all the talk of "finding your spike"
(https://blog.prepscholar.com/how-to-get-into-harvard-and-the-ivy-league-by-a-harvard-alum), almost every single college says high school academics is the most important factor in an application. Also, get involved with clubs and sports, and take a leadership position in a few that matter to you. Make sure that you have something to show for your work when you go to fill out a resume: if your team won a championship or if you received an honor at a sports banquet, write it down.  When it comes to standardized testing, if you have the financial means, study for and take both the SAT and ACT to see which one suits you better.
For very selective schools, focus on scoring within their published top quartiles, and for state schools, look up their specific standardized test score requirements and try to meet them.  Finally, for guys really serious about applying to extremely selective schools, think
back on your day each night before you go to sleep, looking for specifically when you could have used your time more productively. This is not to say "avoid all parties," "don't have family dinners," or "don't spend time with your friends." But what I am saying is help
with a community service project rather than watch a TV show on the weekends, read a book rather than play video games, or go on a family jog rather than sleep in.
For rising seniors, start on your essays today.  Total, I wrote 74 different essays with an average of 311 words.  You can't cram for that like a test: it takes a long, long time.  Have an English teacher read your main essays, and have someone – a parent or an older sibling
maybe – read every essay you submit.  For rising seniors, grades are mostly over, you've made your impressions on teachers, you've done your extracurriculars, so the one thing still in your hands is your collection of essays.
Finally, recognize that there is an aspect of chance in the application process: I got into Harvard but not Yale or Stanford; I got into a WashU scholarship program but not a Baylor
program.  Wherever you go, you'll most likely enjoy your college years – most people do.  Some people say they get a feeling that they just know a certain college is "right for them," but I've never had that feeling, and don't worry if you don't get that feeling either.  We
talk about confirmation bias as a bad thing, but there is a positive version that happens in the college admissions process. When you start getting into schools, you'll quickly start seeing that school in a more favorable light than you did before, and that favorable view
will solidify over time. You probably had worries when deciding on Jesuit, but, looking back, can you imagine attending any other high school? Usually, the same thing happens with college."
These guys are just a couple of the seniors I had the liberty to reach out to. I hope we can all take something from their wonderful experience and their unique insight. If you are wondering where the other seniors are heading off too, don't forget to check out the Jesuit College Map sent to everyone via Mr. Dion's announcements email on May 22nd. Also, have a great and restful summer. Go Rangers!
For more coverage on college and graduation, stay tuned to The Roundup for more!