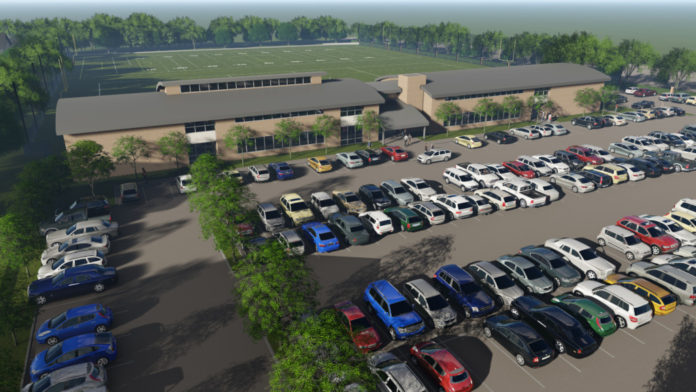 We've all seen the construction going on over in the Forestwood apartments area, especially those of us who drive to school each day, and are delayed by the congested lanes near the site. This construction over at Forestwood, however, is much more than just normal repairs or demolition. It's the beginning of Jesuit's new athletic facility.
Mr. B.J. Antes, the Vice President of Advancement and one involved in the projects happening at Jesuit, had some information about the Forestwood Athletic Center. Mr. Antes started by saying "that [Jesuit] recently purchased some land South of campus," obtaining about 6 and half acres.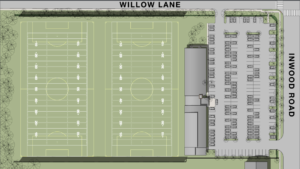 Jesuit's intent for this land, said Mr. Antes, is for it "to be re-purposed as a parking lot at the corner of Willow with around 230 parking spaces, a two story athletic support facility housing six of Jesuit's sport, and two full size turf athletic fields." These parking spots will allow students parking at Willow and the Bueno Lot to park in the lot over there. Additionally, the new fields will allow more sports to practice at the same time allowing more conventional practice times for all sports.
Mr. Antes, talking about the six sports housed at the center, mentioned how "Lacrosse and Rugby will have locker rooms at the center and practice lots on those fields." Antes continued by saying how "Golf will be based there with a simulator and computer systems designed to diagnose ball and swing speed, while cycling will also store their bikes in the center and have stationary bikes for bad weather days." Fencing and Crew will also be located in the center, with the rowing machines (ergs) being moved into the center along with the various equipment used for fencing practice.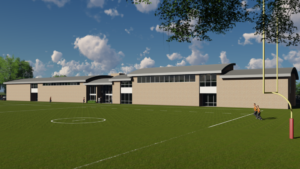 Mr. Antes also mentioned how "a training room will be added to the center, as injuries do happen and there will be two fields over there." For those of you worrying about Shred Sesh, do not worry as the current athletic tower will still be used for its use of  the weight room for all Jesuit's athletics.
The Director of Communications at Jesuit, Mr. James Kramer, also had some information to add about the new athletic center.   While the new athletic facility will host six sports, "other sports and clubs can use them, not only for the use of sports but for recreational use as well."
As amazing as this center sounds, the dates for completion are up in the air and depend on a various amount of variables. Nevertheless, this center certainly leaves many students wishing they were just a few years younger so they would be able to experience more of the new athletic facility being built along with other developments around campus in the following years.
Check back with The Roundup for the latest information on School Renovations and other events around campus!